Environmental and climate impact
Policy
It has always been in the DNA of Royal Unibrew to reduce environmental and climate impact as much as possible and to be fully compliant with environmental legislation. We do that by closely following both legislation and stakeholders' requirements, and by developing and improving our products and production, by training our employees and through a dialogue with our stakeholders.
The major production sites of the Group must be certified under the ISO 14001 environmental management standard.
Activities
In 2018, we continued our efforts to continuously reduce Royal Unibrew's environmental footprint, primarily targeted by:• Reduction of energy and water consumption and waste water discharge
Reduction of water consumption and of waste water discharge
Reduction of wastage of raw materials, semi-manufactured products, containers and packaging
Waste recycling and reduction of resource consumption
Decreasing usage of packaging materials and increase of usage of recycled materials
Increase of utilization rates on both primary and secondary transportation
Reduction of overall CO2 footprint
In spring 2018 Terme di Crodo was ISO 14001 certified as an independent entity.
Royal Unibrew's compliance with environmental legislation is regularly verified, including legislation relating to waste water discharge, noise reduction and waste management. Environmental risks factors are monitored locally at our production sites to ensure compliance with standards and to ensure fast and efficient corrective actions if required.
Risk
The key environmental risks derived from Royal Unibrew's production are unintentional discharge of waste water/chemicals or coolants as well as high CO2 emission due to non-optimal operations.
The packaging materials and in particular containers used for our products are generally the largest contributor to our climate impact (the carbon footprint), thus we constantly strive to optimize our containers. For PET bottles that means reducing weight of each container as well as increasing amount of recycle PET used (thereby minimizing amount of virgin PET used). Remembering that full returnable systems are on place in all our Northern European operation.
Moreover, there is a risk of local water resources being exploited beyond their capacity.
Kpi
Total energy and water consumption per hectoliter production is measured and reported on a monthly basis. Based on the development in these KPIs, the effect of our environmental work is monitored and our efforts in the individual areas are adjusted.
With respect to packaging materials we constantly monitor quantities and challenge our selves and suppliers' feasible improvements. E.g. we are steadily increasing usage of recycled PET in our PET bottles, and from a base of 19,2% in 2018 of recycled PET in the Danish production we are aiming for a recycle PET fraction of at least 50% on average of our PET bottles in 2021.
 Performance
Excluding the companies acquired in 2018, the results on both specific energy and water consumption continued to develop satisfactory. However, when including Lorina and Terme di Crodo performance is not positive compared to 2017.
In 2019, there will be strong focus on the newly acquired businesses, among other things, through a significant upgrade of the waste water systems in France. Having said that, also Albani Brewery in Denmark has seen an increased water consumption, which primarily is derived from higher complexity caused by the micro-brewery as batches are smaller and thereby require more water per hectoliter than normal mainstream batch sizes. In 2019, the focus will unchanged be on a like for like comparison to reduce energy and water consumption per produced HL.
Energy:
75.4 MJ per hectoliter before considering acquisitions is 3.3% lower than the level in 2017. When we include the new sites, the improvement is reduced to 2,1% in the overall energy consumption with 76.4 MJ per hectoliter produced. Continues improvement and installation of new and less energy consuming equipment is the key reason for the development. For 2019, we will strive to reduce relative consumption even further.
Water:
Excluding acquisitions made in 2018 we improved performance on water consumption by realizing a 1.3% reduction to 3.07 hectoliters per hectoliter produced. When including acquisitions water consumption become 3.27 hectoliters per hectoliter produced.
Many projects have supported our strong focus on reducing our carbon footprint development in 2018 and more to come in 2019:
• New can filler at Faxe, Denmark (2018)
• Weight reduction of cans (Starcan) (2018)
• Weight reduction of PET-bottles and short capping
(in 2018 and to be continued in 2019)
• Increase fraction of recycle material in PET bottles
(in 2018 and to be continued in 2019)
• Installation of filter line in Faxe, Denmark (2018)
• Optimization of product changeovers and CIP-processes (to be continued in 2019)
• Installation of new CIP system, Italy (2019)
• New can filler and seamer, Italy (2019)
• New glass bottle filler at Albani, Denmark (2019)
• Replacement of older distribution vehicles classified at EURO 3 and 4 levels by new ones classified at EURO 6 level, Denmark (In 2018 and to be continued in 2019)
• Replacement of old light sources by new energy-¬efficient LED light sources (in 2018 and to be continued in 2019)
• Insourcing of warehousing activities, France (2019)
In 2017, new and more consumption-efficient bottling units were put into operation in both Denmark and Finland.
All production units continued their work of replacing old energy sources with new energy-efficient LED light sources in 2017.
In Denmark, the replacement of older distribution vehicles classified at EURO 3 and 4 levels by new ones classified at EURO 6 level continued in 2017.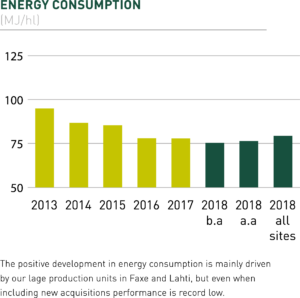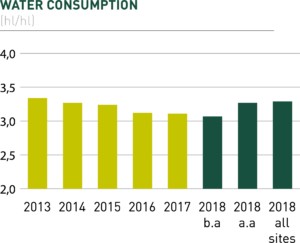 We will save 75% of energy consumptions for IT infrastructure in Faxe
During 2019, we will replace large parts of our group IT infrastructure with the newest available technology, which will create significant developments benefiting both Royal Unibrew and the environment.
Already from the beginning of the project it was decided that our new servers, storages, cooling equipment, network and UPS should contribute to minimizing our carbon footprint via low energy consumptions as well meeting both financial and technical performance requirements – and our decision criteria included all these aspects.
Saved electricity consumption is at least 200.000 kWh per year, and calculations have been done and verified by external certified energy consultants. The reduced energy consumption equals 39 tons of CO2 per year – that is in level with the emissions from 20 private cars.
Forward-looking we will aim at upgrading our IT infrastructure at least once every four to five years, as this supports further reductions of our energy consumptions.
All material and waste streams are fully utilized
At Royal Unibrew we have always been aware that the sourcing, production and logistic processes in our industry contain clear opportunities for minimizing and optimizing our potential negative footprints on our nearby surroundings, on climate change, on environmental issues and on other parameters.
During many years we have been addressing these issues and we have made continuous improvements – which have benefited all stakeholders to whom Royal Unibrew have relations.
The excess materials from the beer brewing process like spent grain and surplus yeast, are sold to business partners, to be used as basic animal food. Both spent grain and excess yeast contains large amounts of e.g. proteins, minerals and vitamins which forms basis for nutritious feeding for animals. Royal Unibrew is always looking for the most optimal way of using these by-products.
While always striving to minimize extract losses, our waste water unavoidably contains lesser amounts of extract which at our larger breweries is used in anaerobic waste water plants to generate biogas and ultimately electricity, being exported and replacing fossil fuel-based electricity.
During beer production, the sweet wort is boiled for a period – traditionally wort boiling has been one of the big consumers of energy in the brewery. Over the years much effort has been done to minimize amount of boiling while at the same time optimizing the recovery of energy contained in the water vapors being boiled off. This recovered energy is used internally for room heating, process heating, or it is exported to the municipality driven district heating systems – this contributes positively to addressing the fight against climate change as it reduces the need for separate additional heating production.
In the level of 2/3 of the needed amount of CO2 for infusion into beverage products in our Faxe/Denmark manufacturing site is recovered from our own manufacturing installations, which also in this case reduces the need for producing CO2 separately for this purpose.
Light-weighting our product packaging
Light-weighting packaging materials is an on-going
journey in our industry. In Royal Unibrew we see light-weighting as one of our important contributions
to ensuring a reduced environmental footprint.
The benefits of light-weighting our finished product packaging (as e.g. cans, glass bottles and plastic bottles) is twofold. The less material volumes we can use in each finished product packaging, the less we, as a responsible brewery, are impacting the environment, alongside that by lower weight the more we can put on the distribution vehicles
Using less raw materials is an area of continuous efforts for both us and our suppliers. Some initiatives are initiated by us, some in close cooperation with the suppliers, and some initiatives are initiated solely by the suppliers.
Less raw material volumes typically lead to thinner material for the finished products packaging, which decreases the material tolerances together with increasing the requirements for calibrating and controlling the production process, logistic installations, transportations etc.
Examples of the results from our light-weighting initiatives are:
– Plastic bottles (raw material PET): Each bottle light-weighted app. 20 % during last ten years avoiding app. 2,000 tons of raw materials per year in 2018.
– Cans (raw material aluminum): Each can light-weighted app. 4.5 % during last ten years avoiding app. 769 tons of raw materials per year in 2018.
Installing new high efficiency filters
At Royal Unibrew we have focus on using best suitable technologies wherever in our manufacturing processes it contributes to creating value and efficiencies. The filter solutions used for producing beer are among the areas we have addressed through significant upgrades.
During 2018 we have installed filter solutions at our Faxe, Denmark, site based on membrane technology, replacing a previous kieselguhr filter solution. The membrane filters are reused many times and damaged filters can be repaired, which is a clearly optimized process compared to the one-time use of the kieselguhr materials. Similar technology was installed in Lahti, Finland, a couple of years ago.
The modern membrane solutions bring a number of other positive impacts – including reducing Royal Unibrew's contribution to virgin extraction of raw materials and the transportation of kieselguhr over long distances, reducing the need for manual lifting of equipment and materials at our sites, reducing the amounts of dust in the production areas and reducing the need for disposal of used kieselguhr.
Also, our new filter solutions have reduced the production loss in the filtration area by up to 75 % – which is a positive impact both on the economic and environmental agenda.