Our new long-term sustainability strategy
To be the preferred choice for the future, we want to lead the beverage industry with respect to climate action and the demand for sustainable products. Our focus is on reducing the impact of our operations and the entire value chain we are a part of while at the same time delivering sustainable business growth.
During 2020, we stepped up on our ambitions when it comes to creating a sustainable business foundation and at the end of 2020, we finalized the work with our long-term sustainability strategy defining goals and KPIs. Royal Unibrew wants to be the preferred local beverage partner. For us that entails providing sustainable products with great taste. The strategic focus being:
Our consumers & customers
Our products
Our people
For each of these areas, we have defined 2025 and 2030 commitments complementing the short-term targets set in 2019. We aim for a substantial reduction in carbon emissions from the entire value chain, providing healthy, nutritious and responsible products (outperforming the market) and enabling a deeply engrained safety and sustainability culture at our company.
We believe that it is of particular importance to transform our pledges and objectives into concrete plans and actions with goals, operational KPIs and close follow-up. Therefore, all our goals are supported by defined initiatives.
In order to succeed with our ambitious sustainability strategy coordinated and wide-ranging efforts are needed – and we Our new long-term sustainability strategy cannot do it alone. We will innovate, develop and engage in partnerships for mutual benefit with our key stakeholders, such as strategic suppliers, major customers, consumers, local communities and our employees. In general, we are tracking well on our short term targets for 2022. Due to COVID- 19, the initiative on packaging waste in the Americas, Africa and Asia was postponed.
"Our strategy development in 2020 was launched with an aspiration of becoming a global leader in sustainable beverages and a balanced focus on financial performance, social and environmental/ climate impact. The Growth Leadership Team headed up the development of key areas of the strategy. We believe that, Royal Unibrew has established a robust foundation with concrete initiatives, goals and KPIs for achieving our long-term ambition."
Lars Jensen, CEO & President
| | | | | |
| --- | --- | --- | --- | --- |
| Short term targets | 2020 Target | Realized | Status | 2022 Target |
| Our consumers/customers | | | | |
| New product development | | | | |
| New soft drinks products | Balanced between regular, and low/no | | | Balanced between regular, and low/no |
| Number of low/no products in Beer, Cider and RtD | Increase | | | Increase |
| Our consumers/customers | | | | |
| Packaging, CO₂, waste, energy | | | | |
| Recycled paper labels per unit | >50% | 69% | | >90% |
| Recycled carton/corrigated cardboard per volume | >70% | 75% | | >90% |
| Recycled PET per volume | >15% | 19% | | >30% |
| Electricity-based transportation vehicles | Test | – | | Implement |
| CO2 reduction (scope 1 and 2) per hl vs 2015 | 15% | 22% | | 30% |
| Packaging waste in Americas, Africa and Asia | Reduce | – | | Documented reduction |
| Our people | | | | |
| Occupational health and safety | | | | |
| Training and awareness campaign | Establish | Country level |   | Repeated annually |
| LTI reporting | Monthly | Quarterly by month | | Monthly |
| LTIF reduction vs 2018 | 20% | -43% | | 40% |

Status
Target for 2020 reached
Target for 2020 partly reached
Target for 2020 not reached
Achievement highlights in 2020
We continued our sustainability journey in 2020 not only by developing the new long term strategy with ambitious targets, but also by continuing our efforts to reduce our footprints and potential impacts for our consumers/customers, our products and our people following up on our short term targets for 2022 and many other initiatives.
NO and LOW sugar, calories and alcohol
Royal Unibrew wants to provide choice for the consumers, but we are aware of the global challenges formulated by WHO regarding obesity as well as alcohol abuse. We take our responsibility very seriously, in our product declaration, in our marketing of products and not the least when we develop new products. We want to offer products with great taste for every occasion, including a balanced launch of regular, no and low products in different categories. Between 2017 and 2020, the volume growth for no and low products out-performed regular products, significantly for both soft drinks, beer, cider and RTD. For our CSD, water and energy portfolio, this is also reflected in a 7% general reduction in calory content per 100 ml across our markets during the same period. For beer, RTD and cider the average alcohol percentage are clearly reduced in Denmark, Finland and the Baltics between 3 to 5%.
Packaging materials reused, reduced and recycled
All our primary packaging contains information on material, recycling and deposit return, which is one of the ways we engage with consumers to close the loop. The effect can be measured in the year on year improving return rates in the well-functioning Deposit Return Systems in Finland, Denmark and Lithuania. From 2018 to 2019 the overall increase in returned cans and bottles was 2-3 % on average across the three markets. The return rate in 2019 was in a range of 90 to 94% for PET, 90 to 95 % for cans and for glass between 84 to 88%.
Royal Unibrew is working on down gauging (removing) unnecessary material and increasing the content of recycled material in all our markets. Resulting in a reduced carbon footprint from packaging and elimination of unnecessary material. In the table on short term targets on packaging material, we have indicated the achievements across the Royal Unibrew on r-PET (19%), r-paper (69%) and r-carton (75%). A few examples of material reduction we did in 2020 was e.g. down gauging of a standard 33cl can, resulting in annual material savings of 57 ton alumina. Another example is reduction in plastic material in PET bottles, where we in one market alone are saving 8 ton plastic per year by a design change. A third example is trays where we in DK alone, have reduced the corrugated carton by 216 ton per year.
Decoupling growth year-on-year
Royal Unibrew has succeeded in decoupling volume growth from carbon emissions. In the period from 2015 to 2020, we have had a decrease of 22% kgCO₂/ hl while having a volume increase of 23%. Our success is a combination of our keen focus on optimizing our energy consumption year-on-year, the positive results of phase one of a large energy efficiency project at our Lahti site in Finland and specifically between 2019 and 2020 there was a change in product mix due to COVID-19 with a shift from the more energy consuming brewing process to less energy consuming soft drinks production.
Royal Unibrew's production facilities are not located in water scarce areas, but as water is an important raw material for us, water preservation and quality are key. Reducing water consumption remains a priority and the consumption of water per hl has decreased by 4% from 2015 to 2020 and in a like-to-like comparison by 10%.
Investing in renewable energy
We are currently awaiting approvals to build a Solar Park in Faxe, Denmark, aiming at providing 100% renewable energy for our entire power consumption in Denmark. In addition, we are looking at geo-thermal energy project at our Lahti site in Finland.
Organizational development and diversity
Establishing our new Senior Leadership Team, appointing a Senior Vice President for HR and moving Group CSR reference to our CEO are major organizational improvements to ensure the right balance between commercial, people and sustainability aspects.
Our policy and objectives on diversity and inclusion was approved by the BoD during 2020. Currently focusing on gender but to be expanded to other business critical aspects.
We are improving on diversity in our markets' management teams, where we are above 40% of the underrepresented gender, i.e. women. An analysis of equal pay across the Group shows that we do not have significant variation when comparing pay to competences, seniority, age, gender, etc.
Collective bargaining and freedom of association is a basic right for all our employees, but in all the markets where we operate. Royal Unibrew is currently establishing an overview of the percentage of the workforce covered by collective agreements.
Overall KPIs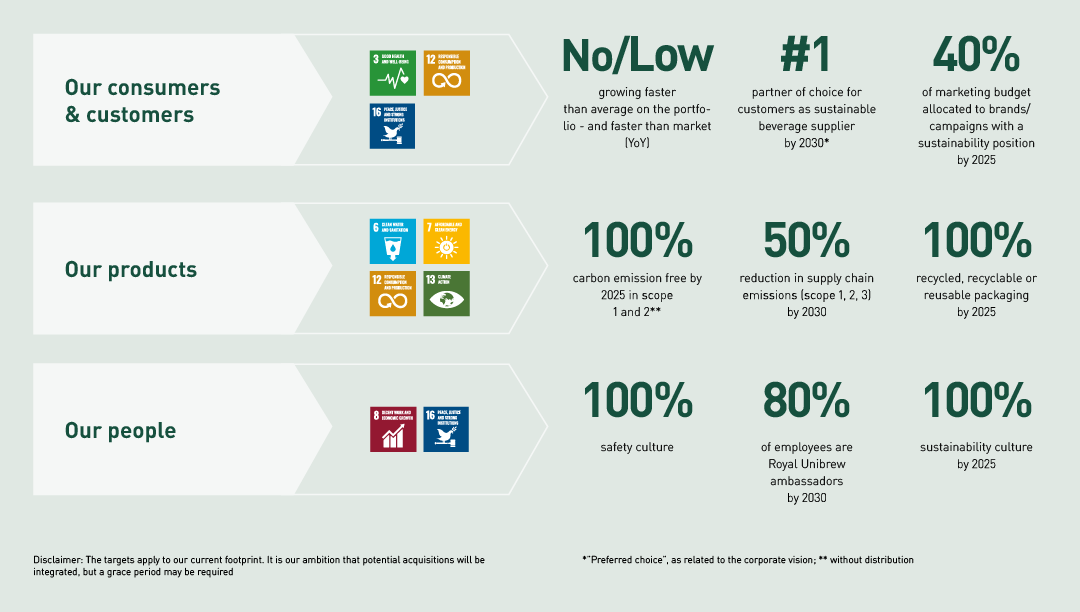 Sustainability – Overview
Our aspiration is to be recognized globally as a leader in sustainable beverages – delivering strong financial performance along with strong local engagement and a neutral CO₂ footprint. In 2020, we stepped up our sustainability efforts and drew up our new long-term sustainability strategy as an integrated part of our overall strategy – and we set our ambitious 2030 targets.
Our consumers & customers

We want to be the preferred partner for our customers with the most relevant innovations for our consumers regarding health and wellness, authenticity and care for the environment

Our products

We will convert our energy consumption to renewable energy in the entire value chain. We will work with our partners on reducing CO₂ emissions and lowering the impact from packaging material through recycling, while having a positive social impact.

Our people

We will lead a sustainable business including fostering a sustainability culture promoting a safe and healthy working environment where employees feel proud, included, and have equal opportunities to realize their potential. We will develop tomorrow's talents while building competences that ensure our success today and tomorrow

KEY AREAS

KEY AREAS

KEY AREAS