Achievement highlights in 2022
We continued our sustainability journey with efforts to reduce our footprints and potential impacts for our consumers and customers, our products and our people while at the same time following up on our short-term targets for 2022/2025. Our 2022 targets were met on no/low, recycled content of packaging materials and decarbonization.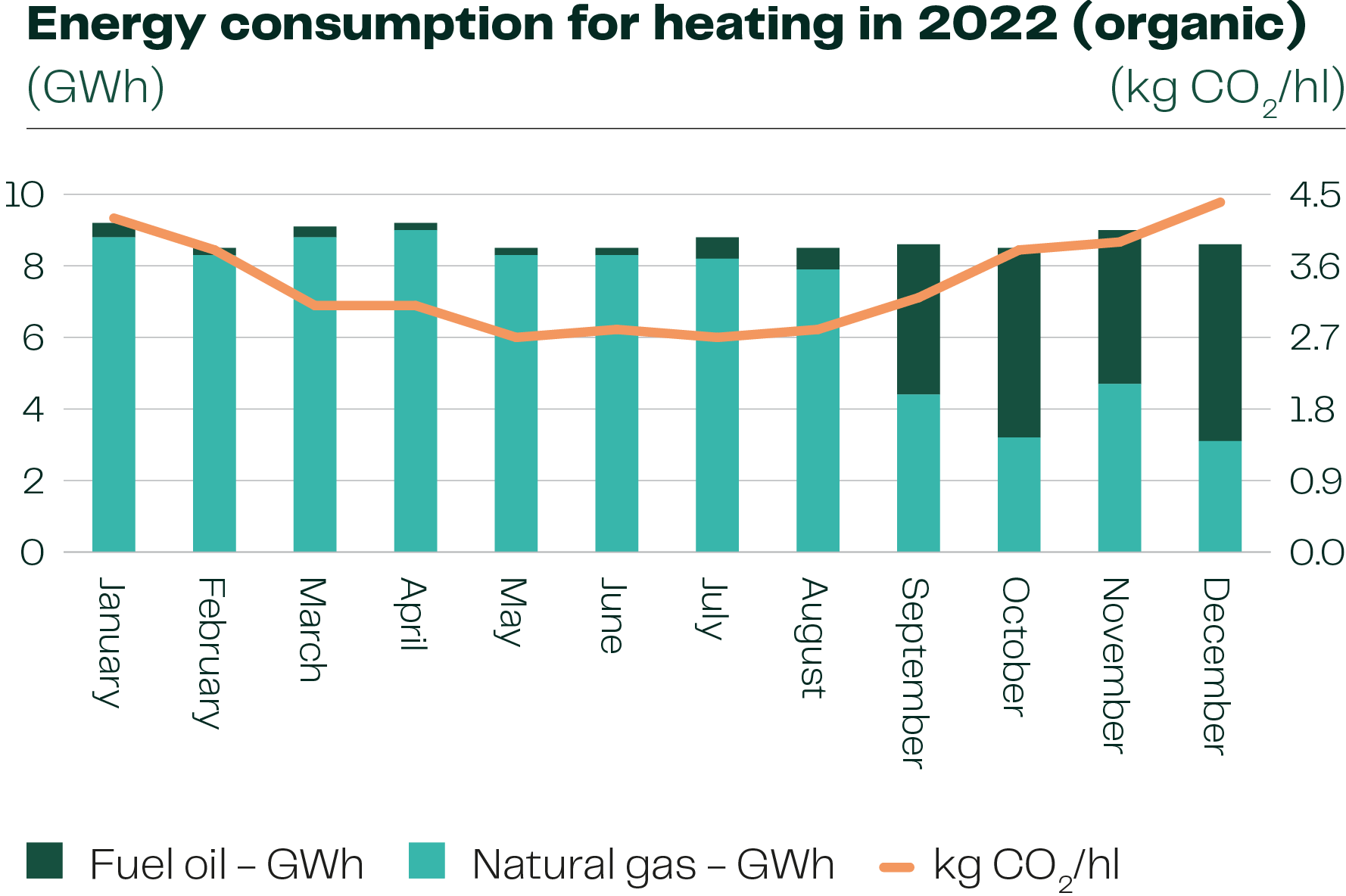 No and low sugar, calories and alcohol
Royal Unibrew wants to provide choice for the consumers, but we are aware of the global challenges formulated by WHO regarding obesity as well as potential alcohol abuse. We take our responsibility very seriously, in our product labelling, in our marketing of products and not the least when we develop new products. We want to offer products with great taste for every occasion, including a balanced launch of regular, no and low products in different categories.We have codified our marketing policies for promotion, advertising, and sponsorships, which are aligned with legal requirements and guidelines by the international trade associations.Between 2017 and 2021, the volume growth for no and low products significantly out-performed regular products for both soft drinks, beer, cider and RTD. For our CSD, water and energy portfolio, this is also reflected in a 8% general reduction in calory content per 100 ml across our markets during the same period.
---

Circular materials
96% of our packaging materials is now reusable, recyclable or recycled.48% of our PET bottles are made of recycled material, irrespective of size, design or brand. Several brands are already in 100% such as Egekilde, Faxe Kondi, Novelle and Bauskas Alus.We continue to work on material reduction. In the past 12 years, we have down gauged packaging materials corresponding to 8,600 ton CO2 per year.All our primary packaging contains information on material, recycling and deposit return, which is one of the ways we engage with consumers to close the loop. The effect can be measured by the return rates, where the average return is above 90% and increasing year-on-year.A new filling line for cans is currently being constructed in Faxe. It will support introduction of cardboard solutions enabling replacement or elimination plastics for several of our SKUs already in 2022.
---

Improving Efficiency year-on-year
Royal Unibrew has succeeded in lowering the carbon intensity of our production year-on-year. From 2015 to 2021, we have had a decrease of 28% kgCO2/hl while having a volume increase of 32%. Our success is a combination of our keen focus on energy efficiency projects at our production sites and change in product mix from 2019 to 2020 and 2021 due to COVID-19 with a shift from the more energy consuming brewing process to less energy consuming soft drinks production.Royal Unibrew's production facilities are not located in high or extreme water stressed areas. However, as part of our overall ambition to produce with less impact on the surrounding environment water preservation and quality is important. 100% of all wastewater is treated. Reducing water consumption remains a priority and the consumption of water per hl has decreased by 6% from 2015 to 2021.In our recent update of our Supplier Code of Conduct, the demand for environmental & climate efficiencies have been clarified.
---

Investing in renewable energy – decarbonizing
Joining SBTi (Science Based Target initiative) and endorsing TCFD (Taskforce for Climate-Related Financial Disclosures) in 2021 emphasizes the importance Royal Unibrew puts on decarbonization and managing climate related risks.Two major capex projects were approved in 2021, and the projects are well under way. One project concerns construction of a solar park in Faxe, Denmark, delivering renewable energy to cover approximately 40% of power consumption at our largest site. And the other project relates to converting all heat consumption from fossil based to 100% bio based at our second largest site at Lahti, Finland, by establishing a bioreactor utilizing our byproduct supported with biogas from a nearby landfill.At all other sites we have advanced plans, which total a reduction of at least 48% of our CO2 emissions. Adding current RECs for electricity, it adds up to a total decarbonization of 70%.

---

Governance and Organizational development
Improving our Sustainalytics ESG score to 16.9 (low risk) from 23.7 in 2020 shows that we are on the right path regarding governance, performance and disclosures. Compared to our peers, we are amongst the top rated.Our policy on business ethics and environment & climate, respectively, were approved by the Board of Directors.Expanding our Growth Leadership Team with Group functions such as Procurement, IT, Legal and CSR to ensure the right balance between commercial and sustainability aspects.80% of our employees are ambassadors for Royal Unibrew and 100% sustainability culture is indicated in our recent employee engagement survey.Collective bargaining agreements cover all eligible employees in Royal Unibrew.
---
ESG highlights and ratios
We continued our sustainability journey in 2022 with efforts to reduce our footprint and potential impacts for our consumers and customers, our products, and our people.
The volume growth for no and low products significantly outperformed regular products (see page 8) and we reached our goal of allocating 40% of our marketing budget to sustainability.
The overall increase in consumption of energy and water, and emission of CO2 between 2021 and 2022 was primarily driven by our acquisitions.
We reached our 2022 target on decarbonization with a 42% reduction in CO2 per hl compared to 2015 (organic), despite of the energy shortage in Europe. However, it did result in some production sites changing from natural gas to oil to support a steady supply of gas for households and secure our continuous operations. An effect of this was an increase in CO2 emissions for the Group.
Our transition to a fossil free future continues with more efficiency projects at our sites and investments in renewable energy sources.
The 2022 targets on recycled content of our packaging material were achieved as well. We believe that we are well equipped to reach our goal of 100% recycled, recyclable or reusable packaging in 2025.
We submitted our CO2 reduction targets aligned with the Paris Agreement for validation by the Science Based Targets initiative, underlining our commitment to reducing the carbon footprint from the entire value chain we are a part of.
Leadership training was in focus for our managers as an initiative under the strategic pillar Our people. The training covered, e.g., sustainable leadership; building high quality connections; and implementing diversity, equity and inclusion in leadership. We expect to see the effect in our people data going forward.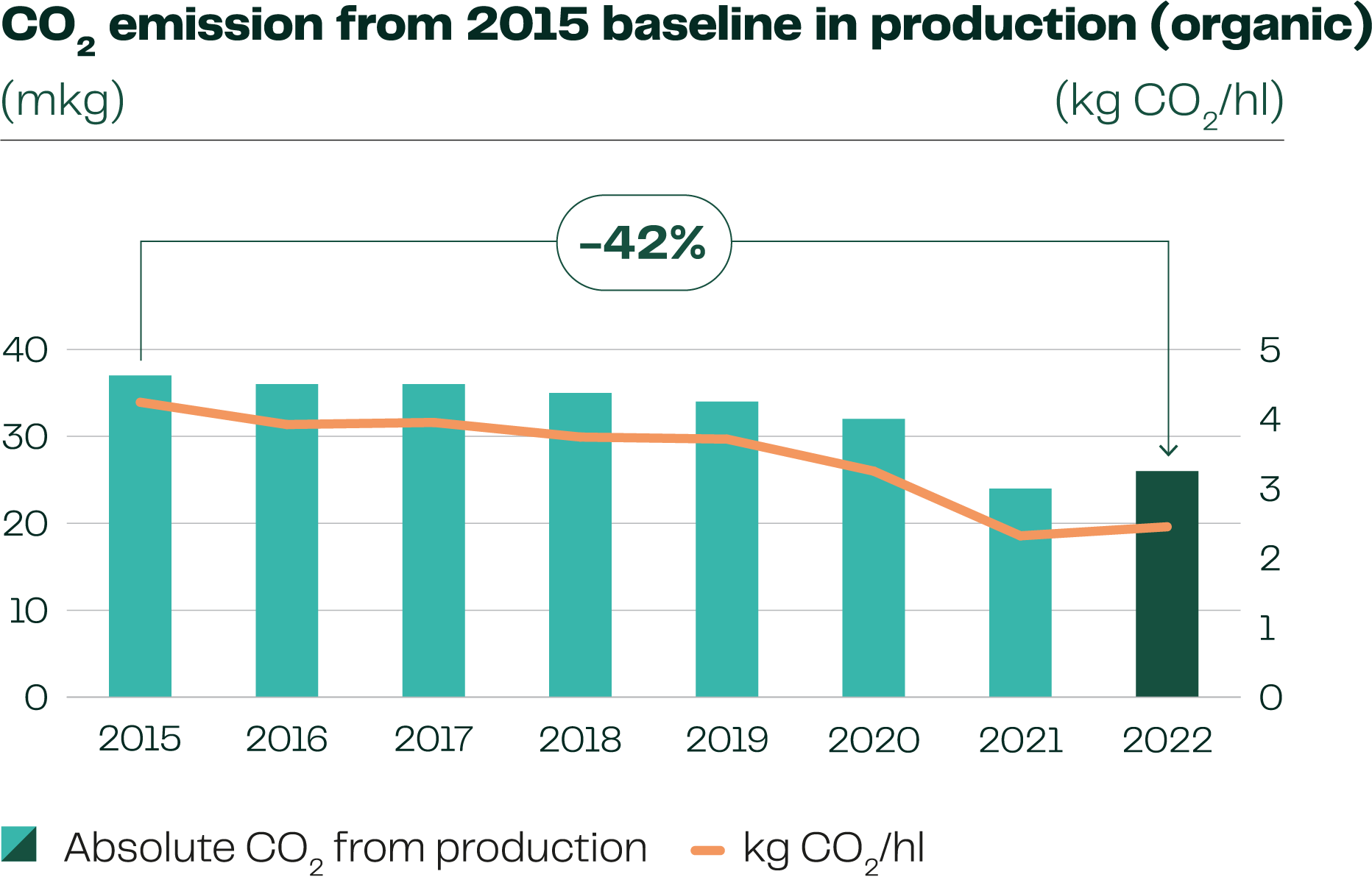 * Location based: Calculated CO2 emission based on IEA country factors and DEFRA data ** Market based: Subtracting CO2 emission covered by green certificates *** Calculated at least every third year **** Packaging material excluding Amsterdam Brewery Co. Ltd.