Our people
We reiterate our strong commitment to become THE PREFERRED CHOICE for our people through a strengthened people strategy and ambitious KPI's defined by our business units. We strive to secure a sustainable business with a safe and healthy working environment that attracts, motivates, and retains the best people. The main strategic pillars and priorities of our group people strategy:
To be the preferred workplace
To secure a safety and sustainability culture
To develop tomorrow's talents while building on existing competencies to support our aspiration for growth
Organize ourselves to win tomorrow's business


Proudest employees
We aspire to have the proudest employees in the industry by fostering a winning culture securing a competitive advantage
We strive to cultivate the proudest employees as they are the foundation for our success and progress. Our performance builds on our deeply rooted culture and past success and we continuously ensure that our leadership model accommodates our strategic ambitions on delivering future growth while nurturing a sustainable culture and providing a healthy working environment. To become THE PREFERRED CHOICE for our people we have accelerated our performance management and revisited our initiatives within e.g. organizational development, and digitalization of processes.
We have enhanced our performance management process in all our business units which includes regular performance reviews in alignment with career development plans, quantitative development areas and targets, talent development as well as formal mechanisms to promote a mutual feedback culture.
Further, we have accelerated our digitalization of human capital processes to improve the employee experience, and during 2022 and 2023 employee master data as well as performance management and development will become digital. To us, performance management is not only what we deliver but also how we deliver – thus 100% of white-collar must have accomplished development goals.
To attract, motivate and retain talented people remain key to our success, and we continue to invest in the development of our leaders to ensure the organizational readiness to execute on our strategy. From 2018 to 2020 the voluntary employee turnover decreased significantly from 17.5% to 13.9%, however in 2021 there was a slight increase in turnover to 15.0% reflecting the general trends in the job market. As people were more exposed to illness and quarantine restrictions in 2021, the leave of absence due to illness increased from 3.7% in 2020 to 3.8% in 2021.
We continue to measure engagement and compared to 2019, the engagement index in Royal Unibrew has increased from 4.0 to 4.1 whereas the ambassador willingness has increased from 3.9 to 4.0, realizing our 2030 KPI of 80% of our employees to be Royal Unibrew ambassadors – primarily driven by Denmark, Finland, and Italy.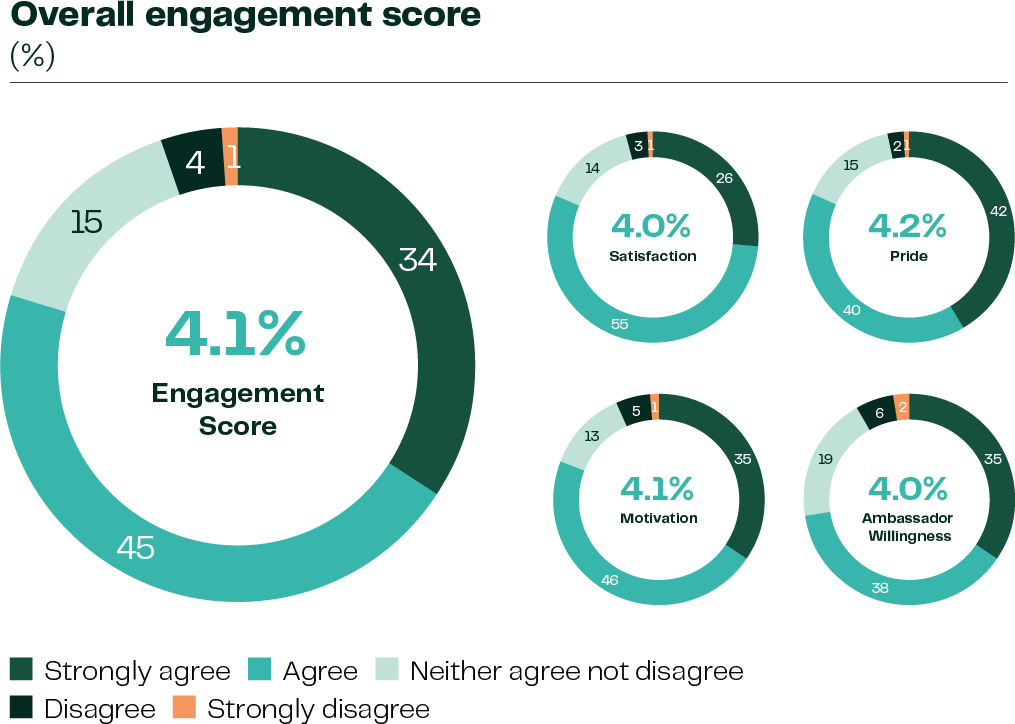 Key initiatives
Expanding leadership model
Acceleration of performance-, talent-, development initiatives
Digitalizing human capital processes
Organizational development
We continuously focus on developing our talents to strengthen our succession plans. In 2021, we implemented an internal rotation program in Italy to foster professional and personal growth in order to strengthen the leadership pipeline.

Sustainability Culture
Our strong commitment to a 100% sustainable culture at all levels in all markets is reflected in ambitious KPIs and executives' incentive programs
Sustainability continues to be an important and integrated part of our performance and we motivate our people to embed sustainability in everything we do. We have conducted workshops and training sessions in all markets and encourage to initiatives that support our CSR strategy.
In 2021, we set ambitious sustainability KPI's as part of the executive management's incentive programs to emphasize and reflect our strong commitment to sustainability, and we strive to implement sustainability KPI's all in incentive programs for leaders around Royal Unibrew.
We continue to focus on nurturing a sustainable culture by assessing and monitoring the organizational health such as employee turnover, sick leave, safety culture, diversity, equality, and inclusion.
In addition, and in alignment with our key initiatives set in 2020, our policies – a harassment free environment policy, a diversity, equality and inclusion policy, a human rights and no discrimination policy – have been codified in accordance with the universal declaration of human rights with the principles set out by the International Labor Organization (ILO), the UN Guiding principles, the UN Global Compact principles, and relevant UN Sustainable Development Goals.
We also work on promoting other diversity aspects by for example including people that for various reasons struggle to maintain or get a foothold on the job market.
Traditionally, the beverage industry is male dominated, however Royal Unibrew's target is to have a more balanced gender representation of at least 40% of each gender by 2024. In 2021 the female proportion of the workforce increased from 24% to 26%. For the international management team, we saw a positive year on year improvement from 2018 to 2020 where the female proportion grew from 31% to 33%, however due to the acquisitions made in 2021, the female proportion in the international management teams have decreased to 29%.
Royal Unibrew continued implementation of employee master data providing further insights to relevant focus areas for diversity. Our visual profile was updated to support diversity in recruitments, and training of employees included focus on an inclusive tone of voice. In 2022, leadership training will integrate diversity and inclusion.

  Key initiatives
Clear commitment and direction from the top
Workshops, training, and upskilling of CSR competences
Integrating diversity, equality, and inclusion in Human Capital processes and policies
In Finland, dozens of employees came together to work on the company's sustainability culture, to influence the desired culture of the entire company. Through a focused 'Hackathon' needs and opportunities were discovered, and concrete ideas and suggestions were addressed to establish a solid foundation for future work on a synergetic sustainability culture.

Safety culture
Safety is of highest priority and with a strong commitment from the leadership teams
Safety comes first when it comes to our people, and preventive measures to avoid employees being injured and/or worn out are of highest priority. We recognize that one accident is one too many, and we continue to focus on minimizing risks by allocating more resources and share best practice across markets.
As we aim for zero lost time incidents, we have conducted a number of behavior-based safety campaigns in several markets. In Denmark, we have also conducted training in risk assessment, ergonomics, and chemistry, as well as focusing on continuous improvements, root cause assessments and near misses. Our focus and efforts have had a positive impact as we first and foremost have not had any fatal accidents among our employees or contractors the past years. In addition, in 2021 we had a 10% reduction of accidents per one million working hours compared to 2020. However, we are not yet close to our target of 40% reduction in 2022 compared to 2018.
Safety of our people during Covid-19
Also in 2021, Covid-19 impacted us in different ways in all markets. Consumers and customers around the world rely on us to deliver our products, so it is essential that production, sales, distribution, and services remain operating. For the safety of our people, we adapted to local restrictions and regulations and in addition offered testing on-site.
"Further development of the safety culture by using humor is the philosophy behind our "Safety Thirst" campaign developed together with employees from various business functions. The campaign has been rolled out."
  Key initiatives
Behavior-based safety campaign and training in several markets
Safety and stress prevention included in the engagement survey
Increased investment in health and safety in production
To further strengthen our safety culture, Denmark has developed a clear safety vision and identified key initiatives for 2022 regarding physical safety, including noise, ergonomics and chemical safety.