Our people
In order to achieve our business strategy of becoming THE PREFERRED CHOICE, we must attract, build and retain talented people at all levels and in all markets in which we operate. We will evaluate our success on the basis of our long-term business results, our engagement survey and our ability to place key talent in critical positions.
The main strategic pillars and priorities of Royal Unibrew's people strategy:
To be the preferred workplace
To secure a safety and sustainability culture
To develop tomorrow's talents while building on existing competencies to support our aspiration for growth
Organize ourselves to win tomorrow's business

KPI 2030
80%

Of employees are Royal Unibrew ambassadors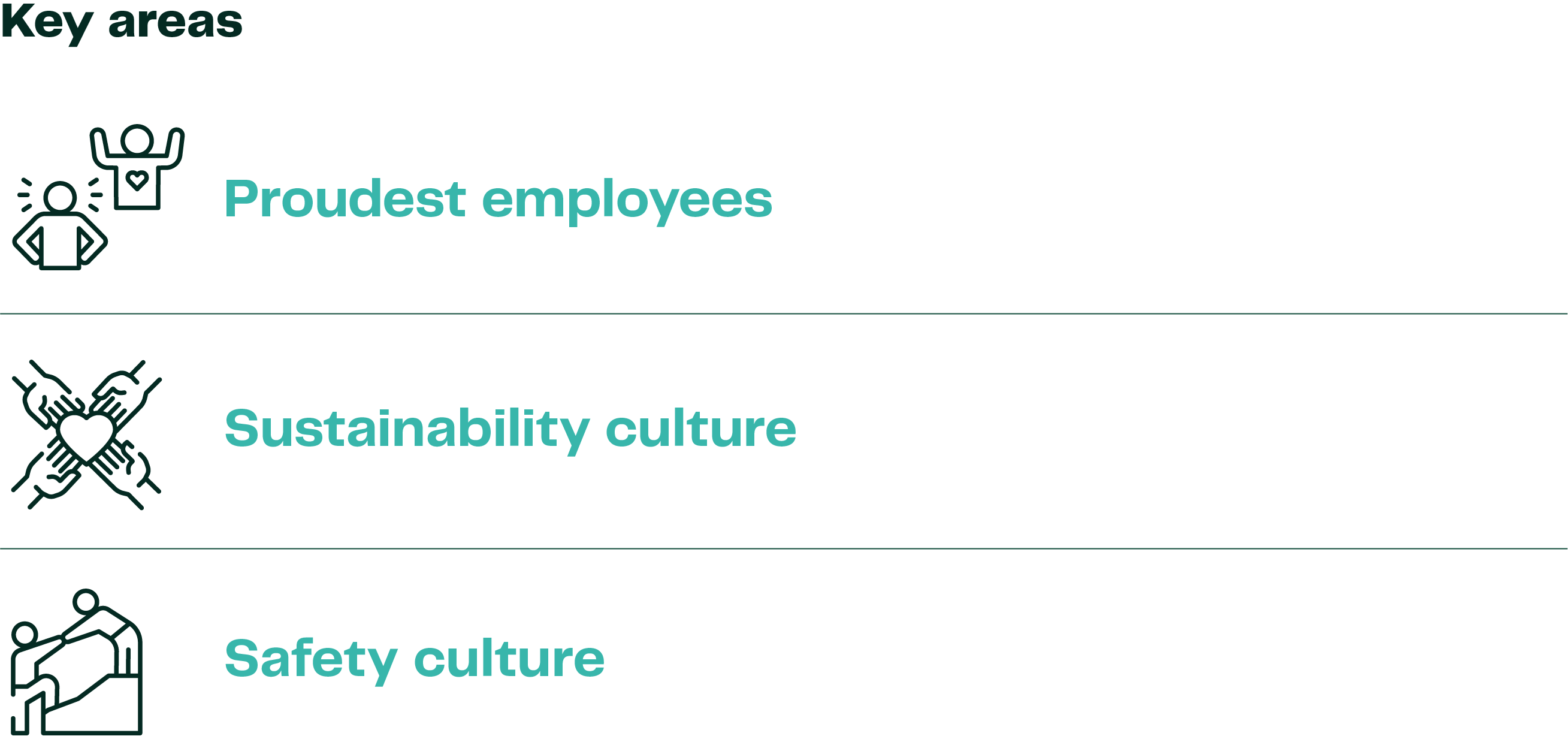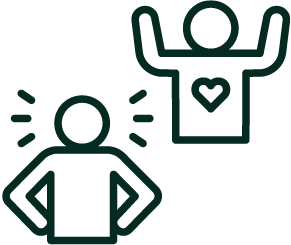 Proudest employees
We aspire to have the proudest employees in the industry by fostering a winning culture.
We strive to cultivate the proudest employees, as they are the foundation for Royal Unibrew's success and progress. Our performance builds on our deeply rooted culture, strong experience and know-how within the beverage industry. We continuously ensure that our leadership model accommodates our strategic ambitions to deliver future growth, nurturing a sustainable culture and providing a healthy working environment. To become THE PREFERRED CHOICE for our people, we have launched Royal Unibrew's Leadership Expectations, strengthened our performance management and revisited our initiatives within, e.g., organizational development, engagement surveys and digitalization of processes.
During 2022, we launched and expanded Royal Unibrew's Leadership Expectations, which is a framework developed to support our leaders in performing effective leadership in line with Royal Unibrew's culture and values. The framework supports our leaders in acting as role models by demonstrating proper behavior in line with the values and expectations of Royal Unibrew while pursuing and achieving our shared ambition to be THE PREFERRED CHOICE. Local empowerment is at the core of our business model; hence, the ownership and commitment to fuel implementation of Royal Unibrew's Leadership Expectations is locally anchored. We will continuously work on communication, activation and implementation of the leadership framework in order to move the needle from intention to impact.
We have tightened key talent management processes in all our business units, including regular performance reviews, development planning and formal mechanisms, to promote a feedback culture. The performance management process has been digitalized to provide our leaders with a support tool to steer their performance conversations and track previous dialogs supporting the employee's development.
To improve overall employee experience, we have accelerated digitalization of human capital processes on our human resources information system. Our performance management, employee master data and recruitment processes have become digital during the past year and will continue to be of high priority in 2023.
Attracting, developing and retaining talented people remain key to our success, and we continue to invest in leadership development to ensure organizational readiness and hereby successful strategy execution. Leaders have participated in leadership trainings covering the following: work with Royal Unibrew's Leadership Expectations, sustainable leadership of setting meaningful objectives, getting tangible levers on building high quality connections, and how to implement diversity, equity and inclusion in their leadership in pursuit of being THE PREFERRED CHOICE.
The voluntary employee turnover decreased significantly from 20.6% in 2018 to 13.9% in 2020, however, in 2021 there was a slight increase in turnover to 15.0% from where the turnover increased to 17.1% in 2022. Hence, the turnover curve reflects the trends in the job market and the effects of the COVID-19 pandemic. The 2022 turnover rates for our largest markets have remained at the same level, except from Finland where the turnover has decreased. Leave of absence due to non-work related illness has decreased from 3.8% in 2021 to 3.6% in 2022.
We will continue to measure engagement both for short-term changes and long-term trends across results from past years. Currently, we measure engagement every second year. The 2021 engagement index score increased marginally from 4.0 to 4.1. Going forward, we will measure engagement annually, which will enable us to monitor the changes more closely, while integrating a digital tool that allows us to create pulse survey follow-up depending on local action plans. This will help the organization to zoom in on specific areas in where we need to focus on creating the highest engagement.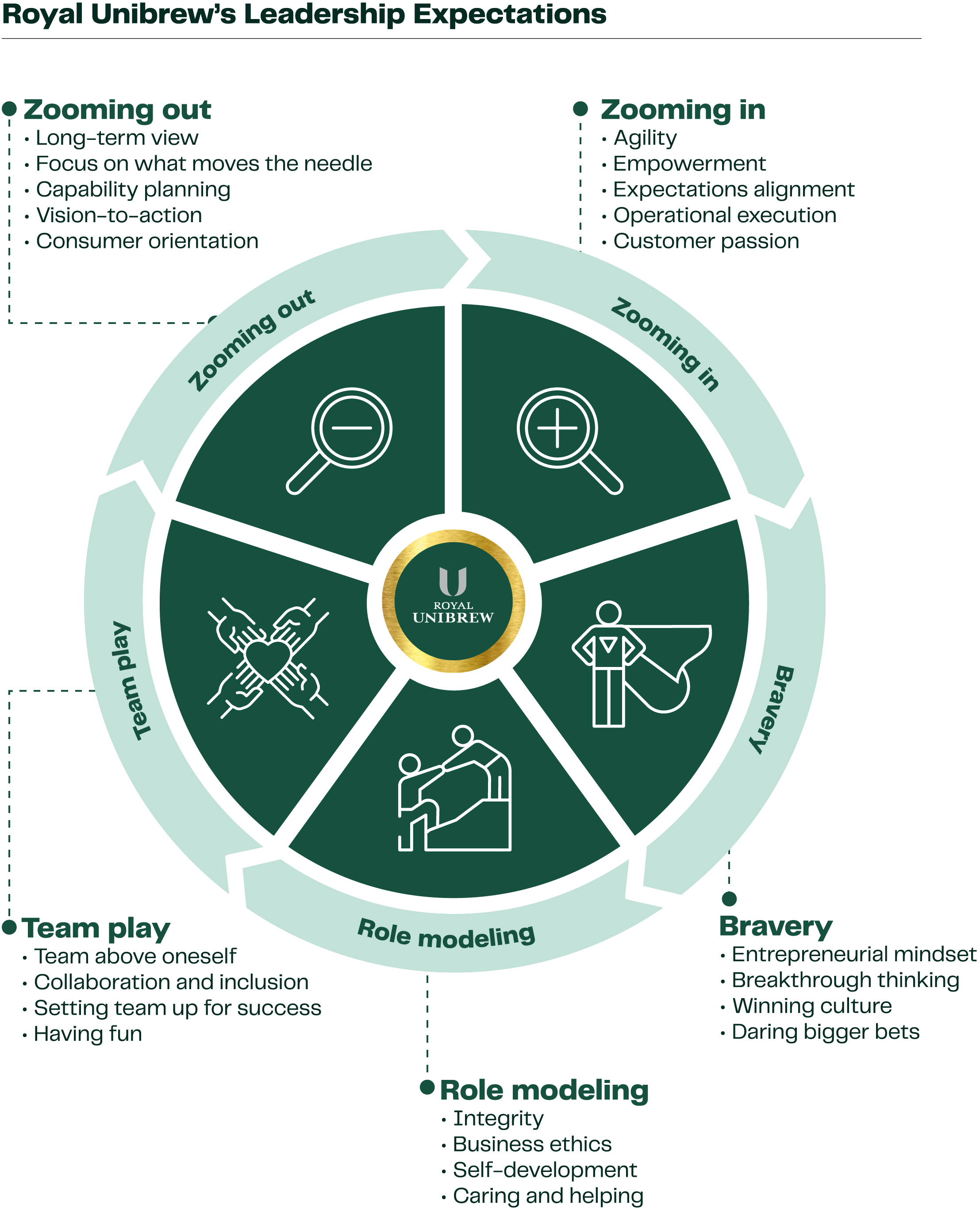 Key initiatives
Expanding leadership framework
Accelerating performance-, talent- and development initiatives
Digitalizing human capital processes
Organizational development
Strengthened HR agenda
As the Royal Unibrew Group is on a rapid growth journey, the need for alignment and sparring within HR across the Group is increasing. Therefore, the HR agenda has been strengthened to design and drive the HR strategy and to foster HR related synergies within especially recruitment, talent management and career management.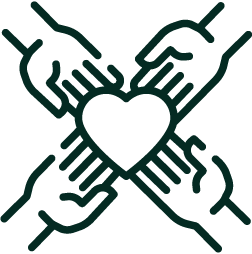 Sustainability Culture
Our strong commitment to a 100% sustainable culture at all levels and in all markets is reflected in our ambitious KPIs and our Executive Incentive Program.
Core to the business strategy is our fundamental belief that the diversity in Royal Unibrew will create extraordinary and sustainable business results through our approach to local markets, local products and people.
We continue to focus on driving a sustainable culture by assessing and monitoring the organizational health, including employee turnover, sick leave, safety culture, diversity, equality and inclusion.
Again in 2023, we set ambitious sustainability KPIs as part of the executive incentive programs to emphasize and reflect our strong commitment to sustainability, and we strive to implement sustainability KPIs in all incentive programs for leaders in Royal Unibrew.
Traditionally, the beverage industry is male dominated. However, we aspire to achieve a more balanced gender representation. Specifically, our target is at least 40% of underrepresented gender across the Group by 2025. The action plan to achieve this target is based on three elements: attraction, retention and inclusion. As a vital part of this plan, we will hold all parts of our business accountable for the development – also across functional areas.
In alignment with our key initiatives set in 2020, our policies (a harassment free environment policy, a diversity, equality and inclusion policy (DE&I), a human rights and no discrimination policy) have been codified in accordance with the Universal Declaration of Human Rights (UDHR) with the principles set out by the International Labor Organization (ILO), the UN Guiding Principles, the Ten Principles of the UN Global Compact and relevant UN Sustainable Development Goals.
Our DE&I policy is our commitment to ensure a diverse workforce, an inclusive workplace with equal opportunities and leadership valuing DE&I.
For the international management team, we see a downward trend for female representation – partly an effect of the recent acquisitions of Hansa Borg Bryggerier and Amsterdam Brewery Co. Ltd. – which emphasizes the need for continuous push within the area, finding new ways to achieve critical mass of diverse talents and to retain the talents in an ever-changing and challenging business environment. An analysis of our employee data shows that some of our locations have bigger success than others in attracting and retaining e.g. female talent. We will investigate what drive these results during 2023.
Because of our belief in and commitment to developing a sustainable and diverse culture, Royal Unibrew has decided to add a position in Group HR dedicated to diversity, equity and inclusion. Our ambition is to increase female representation at executive levels. Likewise, we want to build and enforce a workplace harassment policy. Essential in the future will be to drive leadership accountability and capability building to realize these opportunities.
Royal Unibrew continues to implement employee master data across functional areas and still larger geographies providing further insights to relevant focus areas for diversity. It will improve our ability to make a change where it will have the largest effect.


The gender distribution is impacted by acquisitions. Adjusting for acquisitions the distribution would be equal to 2021.

  Key initiatives
Clear commitment and direction from the top
New role as Group DE&I in Group HR
Acquiring more differentiated data on the full DE&I area in Royal Unibrew
Integrating diversity, equality and inclusion in human capital processes and policies
CSR topics are introduced in Finland through the "Better Mornings" initiative. Here customers and employees are invited to monthly presentations and discussions on CSR related topics, such as non-alcoholic trends. "Better Mornings" is an example of how CSR topics can be a synergetic drive together with our customers.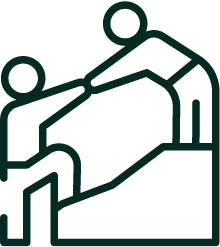 Safety culture
We are committed to maintaining and continuously improving our employees' safety at work.
Our employees' safety at work is of highest priority. Therefore, we are committed to continuously improving our preventive measures to avoid employees being injured and/or worn out. We recognize that one accident is one too many, and we continue to focus on mitigating risks by allocating more resources and sharing best practices across the Group.
As we aim for zero lost time incidents, we have conducted behavior-based safety campaigns in several markets. In addition, we have worked on communicating safety aspects to enhance incident prevention, not only concentrating on lost time incidents, but also on safety observations and near-misses. Improving root cause assessments for preventive measures have been in focus as well.
We did not have any fatal accidents among our employees or contractors during the year, but we were involved in an incident where a pedestrian was hit by one of our trucks and sadly passed away as a result of the inflicted injuries.
We reduced the frequency of incidents by 2% compared to 2021 resulting in 11.1 incidents per 1 million working hours in 2022. However, we had a 4% organic increase, which means we did not reach our short-term target of 40% reduction of the LTI frequency in 2022 compared to 2018. There is no doubt that our efforts are paying off, but we need to improve.
The severity rate measured as lost days per 1 million working hours has decreased significantly since 2019, measured organically by 59%. Behavior and lack of codified procedures account for almost 80% of our lost time incidents in 2022, whereas lack of physical barrier and use of PPE account for 14%. This distribution between root causes is constant over time. Royal Unibrew is continuously conducting job safety analyses to remove or reduce physical, chemical, biological, ergonomic or mental risks from the workplace, but as the latest root-cause assessment indicates, we can still improve in this area.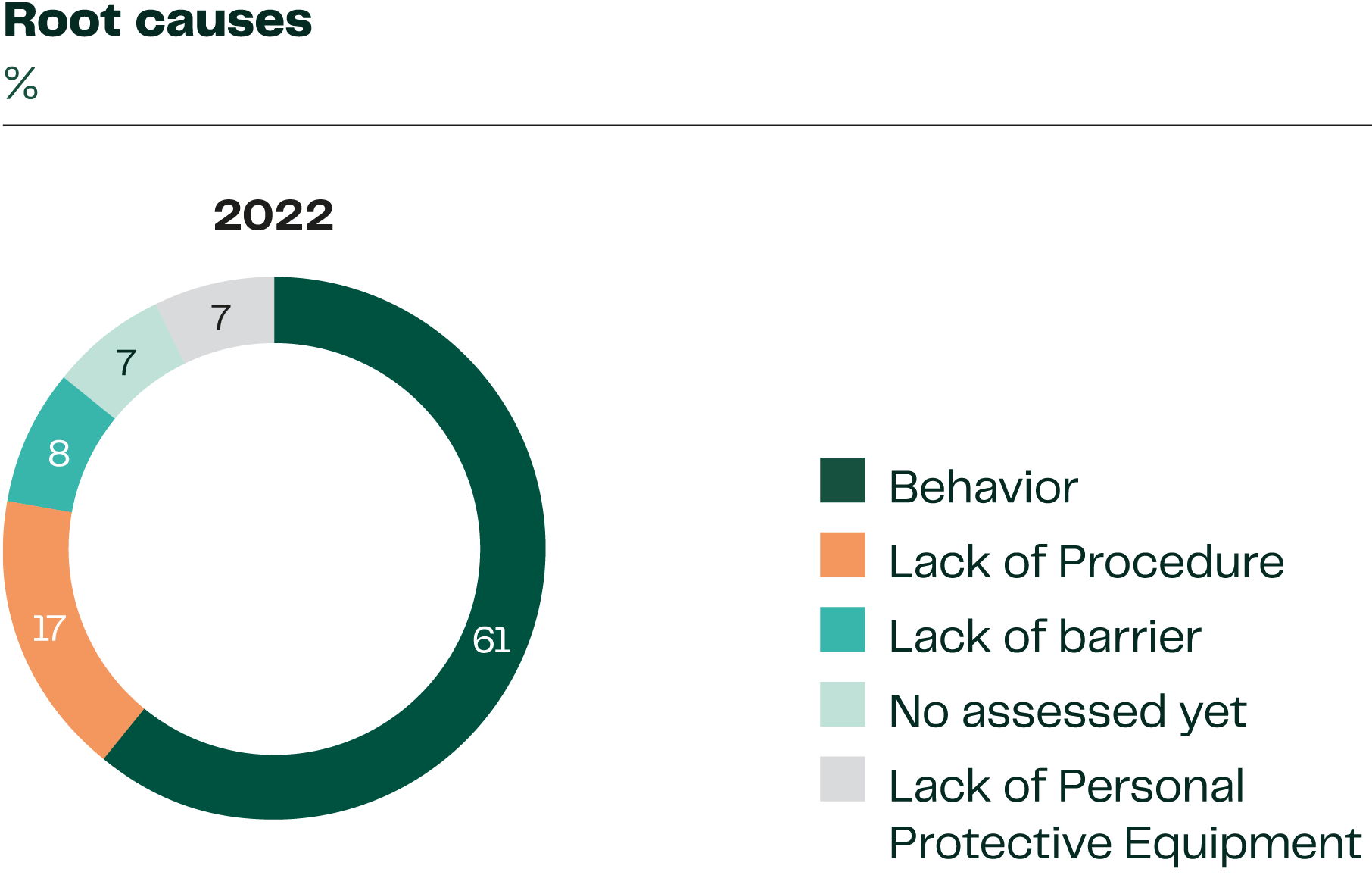 "Further development of the safety culture by using humor is the philosophy behind our "Safety Thirst" campaign developed together with employees from various business functions. The campaign has been rolled out."
  Key initiatives
Behavior-based safety campaign and training in several markets
Safety and stress prevention included in the engagement survey
Increased investment in health and safety in production