Western Europe
Financial Performance
In Western Europe, total volumes showed a 19% increase in 2021 (organically 13%) and a total of 5.5 mhl. Net revenue from beverages was 32% higher than in 2020 (organically 15%), due to a year with less COVID-19 restrictions in On- Trade and impact from acquisitions. Earnings before interest and tax (EBIT) for 2021 showed a DKK 170 million increase from DKK 687 million in 2020 to DKK 857 million in 2021, positively impacted by the Danish and Italian market. The EBIT margin decreased by 1.1 percentage points to 19.1% due to higher commercial spend.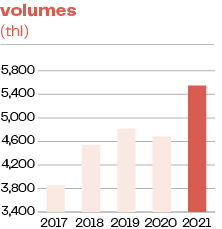 .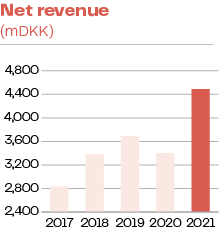 .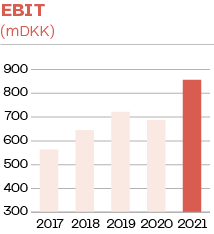 .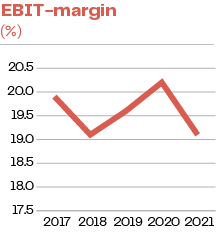 In Q4 2021, volumes increased by 35% compared to Q4 2020 (organically 20%), and net revenue increased by 90% in the same period (organically 28%). Both due to less COVID-19 restrictions and impact from the acquisitions of MC Energy and Solera. The EBIT margin declined by 4 percentage point from 16.6% in Q4 2020 to 12.6% in Q4 2021, impacted by the Solera portfolio with lower margin.
"Our customers had a difficult year with changing COVID-19 restrictions, and we did our utmost to assist them through these challenging times. The energy drink category was on top of the agenda – we launched our own brand in Italy, Lemonsoda Energy Activator, and acquired the Crazy Tiger brand in France" – Jan Ankersen, SVP South Europe and GM Italy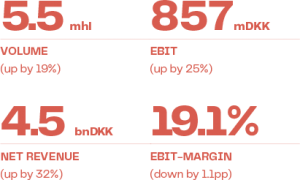 | | | | | | Q4 | Q4 | | |
| --- | --- | --- | --- | --- | --- | --- | --- | --- |
| mDKK | 2021 | 2020 | % changes | % organic | 2021 | 2020 | % changes | % organic |
| Volumes (thl) | 5,549 | 4,682 | 19 | 13 | 1,401 | 1,041 | 35 | 20 |
| Net revenue | 4,491 | 3,402 | 32 | 15 | 1,370 | 722 | 90 | 28 |
| EBIT | 857 | 687 | 25 | 18 | 173 | 120 | 44 | 21 |
| EBIT margin | 19.1 | 20.2 | | | 12.6 | 16.6 | | |
Development and initiatives in 2021
During the first part of the year, activity in Denmark was characterized by the extended shutdown of the On-Trade effective from December 2020. Despite the extensive closures, our salesforce created and executed a wide range of activities, also related to sustainability.
Activities included several virtual events with a range of very popular beer tastings culminating with a hybrid event, which the Guinness Book of records recorded as the world's largest virtual beer tasting ever with 16,843 participants. In 2021, we celebrated the 50th anniversary of our iconic CSD brand Faxe Kondi with several events, an overwhelming interest, especially in a limited edition version in champagne bottles.
In May 2021, we announced the acquisition of Bryggeriet Fuglsang with strong local roots in Southern Jutland that will help to create a strong regional platform. The transaction included two production sites: a soft drinks factory in Ribe and a brewery in Haderslev.
Our strong focus on customer satisfaction resulted in the recognition as the best supplier to the Danish grocery trade. The analysis is performed by the independent company Gradient Benchmark and rates approximately 18 different parameters in the supplier/customer relationship for approximately 100 suppliers. The analysis is made at store level and at head office level for the supermarket channel as well as in the convenience channel. We are very proud that in 2021, Royal Unibrew was rated as the best supplier in all 3 surveys, as well as being top rated on who handled the impacts from COVID-19 best.
Italy delivered the best result ever in 2021 in both On-Trade and Off-Trade, as we experienced significant growth in all categories (beer, CSD and energy drinks). Strong marketing support to our brands ensured a fast recovery in On-Trade and together with a stronger Off-Trade coverage and execution, we gained value market share in all three categories through the year.
The Ceres brand significantly outgrew the market, leveraging a new marketing campaign, strong in-store execution and new launches in the super premium beer segment. This cements Ceres as a must stock brand in On-Trade. LemonSoda also grew significantly more than the CSD market in Italy and became market leader in the lemon-lime segment in the summer of 2021. We successfully launched Lemonsoda Energy Activator in 2021 with a strong market presence.
In France, Lorina recorded its 39th consecutive month (December) of market share growth in the clear lemonade segment and significantly outgrew the CSD category in 2021 driven especially by small formats. 2021 also became the year where Lorina really went beyond the Off-Trade channel, being listed in around 3,000 bakeries. Lorina also repeated its Christmas activation campaign (Joyeux Cocktail) in an effort to create a new lemonade consumption occasion during the Winter season.
The acquisition of the Crazy Tiger energy drink brand marked our entry into the fastest growing beverage category in the market. The brand has continued its strong volume growth and market share gains since the acquisition. We expect to finish the integration of Crazy Tiger in the first quarter of 2022.