Western Europe
Financial Performance
In Western Europe, total volumes showed a 3% decrease in 2020 and a total of 4.7 mhl.
Net revenue from beverages was 5% lower than in 2019, as the On-Trade and Border business was significantly hit by COVID-19 restrictions. Earnings before interest and tax (EBIT) for 2020 showed a DKK 35 million decrease from DKK 722 million in 2019 to DKK 687 million in 2020, due to the lower net revenue. The EBIT margin decreased slightly by 0.2 percentage points to 19.4%.
In Q4 2020, volumes declined by 4% compared to Q4 2019, whereas net revenue declined by 7% in the same period. Both due to the COVID-19 restrictions imposed on the On-Trade channel throughout the region. The EBIT margin declined by 0.2 percentage point from 15.8% in Q4 2019 to 15.6% in Q4 2020.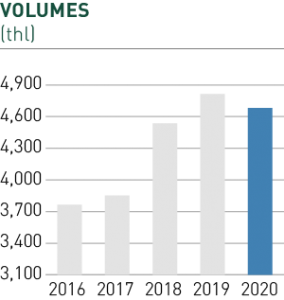 .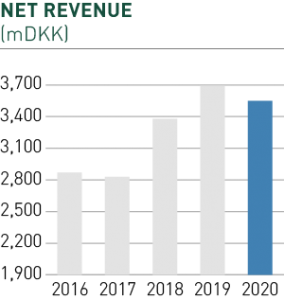 .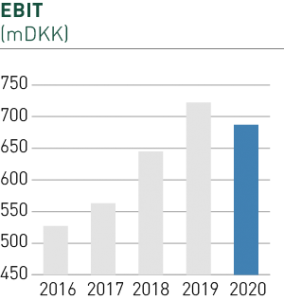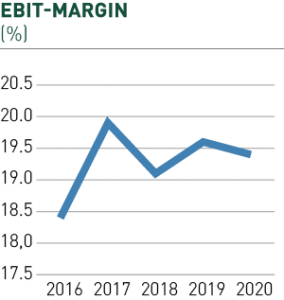 | | | | | Q4 | Q4 | |
| --- | --- | --- | --- | --- | --- | --- |
| mDKK | 2020 | 2019 | % changes | 2020 | 2019 | % changes |
| Volumes (thl) | 4,682 | 4,813 | -3 | 1,041 | 1,085 | -4 |
| Net revenue | 3,548 | 3,691 | -4 | 769 | 831 | -7 |
| EBIT | 687 | 722 | -5 | 120 | 132 | -9 |
| EBIT margin | 19.4 | 19.6 | | 15.6 | 15.8 | |
Development and initiatives in 2020
During 2020, COVID-19 restrictions on social gatherings and opening hours challenged the On-Trade business in all markets. It also opened new opportunities that the organization quickly responded to.After the COVID-19 outbreak in
Denmark
, a number of restrictions were introduced in March, including a closure of the borders to Germany. The restrictions had a positive impact on the Off-Trade business in Denmark and Germany, although not in a scale that could compensate for the lost business in the On-Trade channel and border business.
The sales and supply teams responded quickly to support the growing Off-Trade business, while at the same time supporting On-Trade customers in the difficult situation. During the lockdown, for example, we hosted the biggest virtual beer testing event in Denmark and brewed a beer to the famous Danish TV show "Natholdet", and when the market re-opened during the summer period, we supported bars and restaurants with initiatives to support their business.
To support future growth, particular in the Danish market and at the German border, the construction of a new High Bay Warehouse in Faxe started in 2020 (expected to be put in use in 2021). The new facilities will increase the storage capacity significantly at the site and thus the flexibility of delivery to our customers.
In Italy about 60% of our business is in On-Trade. To partly compensate for the effects of the significant decrease in sales during the periods with lockdowns and restrictions, we have focused on boosting our supermarket operations and ensuring that the wholesale and Cash & Carry channels were well-stocked and activated with our Ceres and LemonSoda brands. Ceres has in particular performed well in the Off- Trade channel where we launched a range of speciality beer next to our iconic Ceres Strong Ale. We have also actively supported bar owners in the periods between the lockdowns.
In France, we focus on building a solid platform from which we can drive high value creation and with focus on in-store execution and e-commerce initiatives for our Lorina brand. In 2020, we reach all time high market share in lemonade, a category which grew faster than the general soft drink market. During the COVID-19 period, we have reached out to our consumers online in both Italy and France. In Italy the Italian 17.00 Ceres virtual apero event and in France the Lorina mixer event each Friday at 17.30 are just a few of many new occasions where our brands created happiness and new moments of enjoyment among consumers.
Successful virtual beer tasting events
During the very unusual 2020, we have supported a number of initiatives to help our customers and local societies. One example is our virtual beer tasting events in Denmark, where we promoted more than 30 local craft breweries and sold more than 500.000 of their beers.
Faxe Kondi in Denmark
2020 was a great year for our Faxe Kondi brand, especially for the 0 calories which grew 56% in volume.