The Western Europe segment comprises the markets Denmark and Germany, as well as Italy and France. Western Europe accounted for 46% of the Group's net revenue for 2018 and for 47% of allocated EBIT (2017: 44% and 51%, respectively).
19% net revenue increase on solid baseline development, acquisitions and extraordinarily good weather
Market share growth in Denmark and Germany
Launch of a number of new craft and specialty products
Integration of the Italian soft drinks business Terme di Crodo progressed as planned
Acquisition of the French lemonade business Etablissements Geyer Frères (Lorina)
Acquisition of a majority interest in Nohrlund ApS
Development in 2018
In Western Europe, total volumes showed a 18% increase for 2018.
Net revenue from beverages was 19% higher than in 2017, and the average net selling price per volume unit remained unchanged in spite of dilution from acquisitions. A changed product and sales channel mix affected net selling prices positively in Denmark and Germany, while the soft drink portfolio in Italy affected negatively.
Earnings before interest and tax (EBIT) for 2018 showed a DKK 82 million increase from DKK 563 million in 2017 to DKK 645 million in 2018. The EBIT increase was due to a strengthening of the market position as well as a favorable development of the product mix in Denmark and Germany. The EBIT margin decreased by 0.8 percentage points to 19.1%, caused by a negative mix effect from the companies acquired during the year.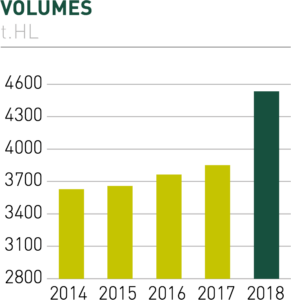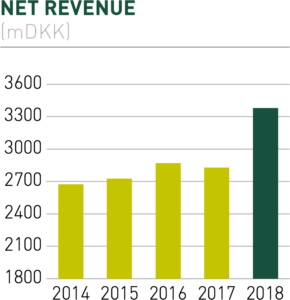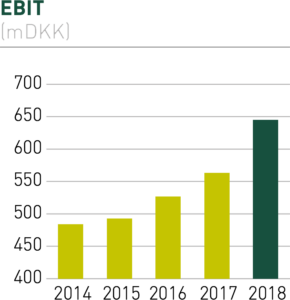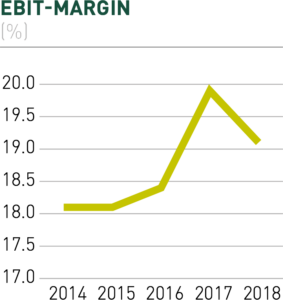 WESTERN EUROPE
| | 2018 | 2017 | | 2018 | 2017 | |
| --- | --- | --- | --- | --- | --- | --- |
| | Q1-Q4 | Q1-Q4 | % changes | Q4 | Q4 | % changes |
| Volume (thousand hectoliters) | 4,536 | 3,852 | 18 | 1,062 | 900 | 18 |
| Net revenue, beverages (mDKK) | 3,269 | 2,738 | 19 | 757 | 629 | 20 |
| Net revenue (mDKK)) | 3,378 | 2,829 | 19 | 789 | 656 | 20 |
| EBIT (mDKK) | 645 | 563 | | 119 | 114 | |
| EBIT margin (%) | 19.1 | 19.9 | | 15.0 | 17.5 | |