Northern Europe
"Our multi-beverage strategy proved its success in Northern Europe in a very difficult year with unexpected inflation and changes to consumer preferences. We are ready to take on the world of uncertainties that we expect for 2023 with new partner agreements, an agile organization and strong brands."
Kalle Järvinen,
SVP Baltic Sea, Sweden & Norway and Managing Director Hartwall, Finland
Financial performance
In Northern Europe, total volumes showed an increase of 7% to 10.4 million hectoliters in 2022. Organically, volumes declined by 1% compared to 2021. Net revenue increased by 35% to DKK 8.9 billion of which around 25 percentage points contributes to M&A activity resulting in 10% organic net revenue growth in 2022. Price increases taken throughout the year positively impacted the topline, whereas volumes did experience a slight negative impact.

.       

.       
Earnings before interest and tax (EBIT) for 2022 decreased to DKK 1,247 million and was DKK 2 million below the 2021 figure. The EBIT margin declined by 5.0 percentage points from 18.9% in 2021 to 13.9% in 2022. The time lag between when input price inflation happened and our price increases to customers did impact earnings and the EBIT margin
significantly in 2022.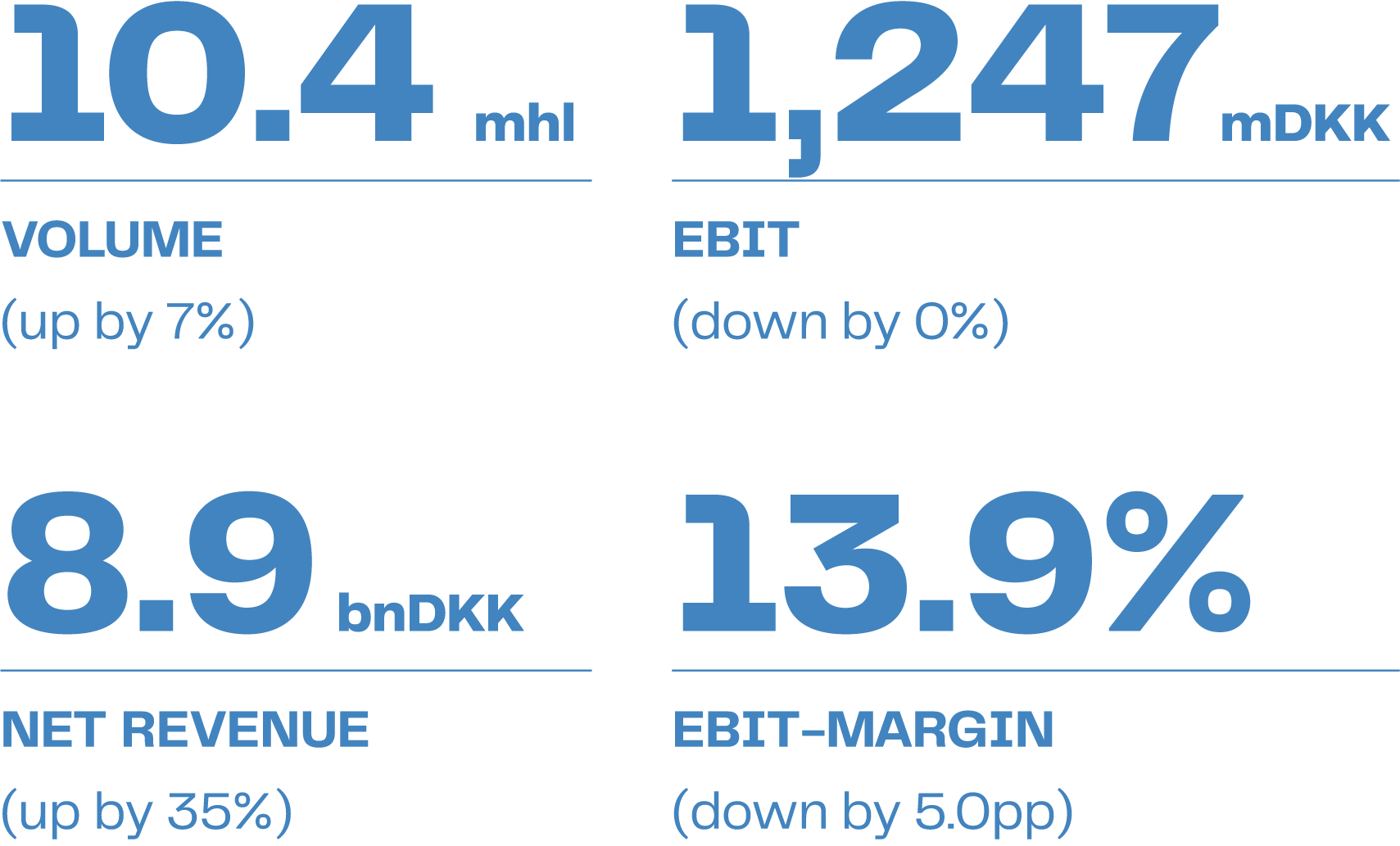 Development and initiatives in 2022
We had a strong year in Finland despite On-Trade lockdowns due to COVID-19 in Q1 and heavy cost pressures mounting as a result of Russia's invasion of Ukraine. The strong result was built on growth of our key brands: Original, Novelle, Vichy and license brand Pepsi supported by our quick ability to adapt the business to increased costs and changing consumer sentiment. While we increased our prices due to cost increases on the total portfolio, we maintained our market share.
The integration of Solera Finland was completed successfully, capturing the expected synergies while the wine and spirits business grew faster than expected. We also partnered with new On-Trade customers in particular in the fast food segment where we have been underrepresented. Partnering with fast expanding KFC and signing a deal to partner with the restaurant chain Subway with effect from the beginning of 2023 help us build volume, as the fast food segment is also growing in Finland.
Low consumer confidence coupled with high inflation started to impact the consumer spending patterns toward the end of the year resulting in reduced category growth. While employment rates still remain high, the low consumer confidence will be challenging in the beginning of 2023 particularly for our On-Trade customers and for our mix. Nevertheless, we believe that our wide portfolio and channel coverage provide us options for continued growth in an ever-changing market situation. Our portfolio was further expanded by the introduction of Ekaterra Teas (Lipton and Pukka) in 2022 and PepsiCo snacks (Doritos and Lay's) from the beginning of 2023.
In the first weeks of 2022, COVID-19 and lockdowns were still factors that limited development and initiatives in our Danish business. Fortunately, the COVID-19 restrictions gradually eased and were replaced by a portion of optimism for the year and a gradual return to normality in the market.
Russia's invasion of Ukraine at the end of February 2022 triggered a high level of uncertainty in all areas reinforced by the escalating energy crisis and high inflation. The geopolitical situation contributed negatively to supplies of virtually all goods and components and led to several price increases – not only on beverages. One of the consequences of this was clearly seen in Off-Trade, where consumers started to turn more toward discount stores with more narrow assortments. With regards to On-Trade, we have maintained good and close dialogue with our customers, and we have entered into several new, larger agreements on collaborations and existing agreements were successfully renegotiated.
One of the year's highlights was a return to the festivities. Larger events and festivals boomed, and it was the busiest year in the Event/Technology department ever. The number of concerts and other outdoor events increased, and our partners felt the guests' eagerness to gather again.
Despite the tougher conditions in the market, we continued to work with our multi-beverage strategy and our purpose and ambition of being THE PREFERRED CHOICE. The work has resulted in various forms of collaborations and partnerships, including a Nordic agreement (Finland and Norway) with Ekaterra, formerly part of Unilever, for the sales and distribution of the tea brands Pukka, Lipton and Medova in Denmark from June 2022. In the first six months, the collaboration helped us attract new customers, and we already see positive rates in the development of the brands.
At the end of the year, we announced a signing of an international distribution agreement with Danish Rebæl on sales and distribution of Rebæl's high-end and premium hand-brewed lemonades, gastro juices and cocktails. The joint focus on quality, craftsmanship and innovation is a central cornerstone of the collaboration, and we expect this to be the driving force in strengthening the distribution of the well-reputed crafted drinks.
Overall, there has been a positive development of turnover, we have gained market shares, and we have successfully developed exciting innovations and strong marketing campaigns – and for the third time in a row, we are named as the trade's preferred beverage supplier both at head office level and in the stores, cf. Gradient Benchmark analysis.
In the first half of the year, the Norwegian market was impacted by COVID-19. On-Trade was negatively affected, but only to a limited extent in the first 2-3 months of the year. Vinmonopolet (the wine monopoly) and the On-Trade experienced significant additional sales. However, the overall positive effect decreased from the summer and moved back to a normal level in the second half of the year.
Since Royal Unibrew acquired Hansa Borg Bryggerier in May 2022, we have been working on a merger of the Norwegian companies Solera, Vinestor, Multibev, Cuveco and Hansa Borg Bryggerier. Appointing a joint management and merging the commercial areas have made us a significantly stronger beverage supplier in Norway with a unique product range within all sales channels. During the second half of the year, the management continued to work on planning the integration of all business areas, which will provide synergy effects both on commercial additional sales and costs/operations.
With a significantly stronger market position within On-Trade, Off-Trade and Vinmonopolet, we will be a solid future business partner for companies with strong brands that aim to gain a foothold in the Norwegian market.
During 2022, we strengthened our low alcohol portfolio, particularly on the Hansa brand. To decrease our environmental footprint and to increase efficiency of our operations, we have closed one of our production sites. We have also been working on energy efficiency measures and have succeeded in reducing energy spend with as much as nine percent during 2022.
Hansa Borg Bryggerier has entered into a partnership with Too Good to Go, a community of Waste Warriors fighting food waste, to sell surplus non-alcoholic beverages through their food rescue app. One year into the collaboration, in November 2022, we could announce that we have saved over 100,000 units of beverages from our Cash & Carry's in Bergen, Oslo and Sarpsborg.
A new Transparency Act came into force in Norway on July 1, 2022, requiring enterprises to conduct due diligence assessments, meaning that an enterprise must look at both its own business, its supply chain, and its business partners to identify the largest risks. To ensure responsibility in the supply chain and to carry out the assessments in accordance with the OECD Guidelines for Multinational Enterprises, we partnered with Factlines in 2022 to get a systematic, digital, complete solution for responsible supplier follow-up with focus on sustainability and the Transparency Act. 89% of our spend was covered by December 2022. The response rate is high, and we have succeeded in establishing increased awareness in our supply chain.
It was yet another successful year for Royal Unibrew's premium and craft beers in the Baltic countries. Continued positive development of our brewery in Latvia, Bauskas alus, as well as our acquisition of Tanker Brewery in Estonia were the main contributors to success. We continued to focus on growing our non-alcoholic beers faster than the market, and we maintained a clear market leader position in Lithunia with our Kalnapilis brand.
PepsiCo delivered outstanding results in the CSD category and won a massive blind tasting over the leading cola brand. The blind tasting showed that more than 60% preferred the taste of Pepsi, which was also reflected in the growth of sales and market share in the Baltic countries. Increased focus on premiumization of the CSD portfolio also resulted in profitability increase.
We continued the roll-out of CULT as part of our multi-beverage strategy. High level of innovation, maximization of trade availability as well as outstanding brand communication contributed to sales increase of +30% and gain of market share in the growing energy drinks category.
In spring 2022, a customer survey was completed by 101 companies in Lithuania and 101 companies in Latvia. The survey was conducted by Kantar for Royal Unibrew Baltic to access the level of sustainability, social responsibility, and reputation of Kalnapilio-Tauro grupe and Cido grupa in the eyes of On-Trade and Off-Trade business partners. The survey showed that the reputation of Kalnapilio-Tauro grupe was rated the highest by its partners compared to competitors in Lithuania. Likewise, business partners rated the reputation of Cido Grupa the highest in the beverage industry compared to competitors in Latvia. Royal Unibrew Baltic used PR to promote its position as #1 Sustainable partner resulting in extensive media publicity across the Baltic countries.