International
"Our International business is being redefined and future-proofed by revising our route to market and supply chain structure with an ambition to localize production and becoming less dependent on long distance transportation. In 2022, Amsterdam Brewery became an appreciated member of our family, and we also expanded our malt beverage license business in the Caribbean."
Michael Nørgaard Jensen,
SVP International
Financial Performance
In International, total volumes showed a 7% increase in 2022 to 1.4 million hectoliters corresponding to a 6% organic increase. The inorganic development is explained by the acquisition of Amsterdam Brewery Co. Ltd. Net revenue was 22% higher than in 2021 and reached DKK 1,191 million in 2022, corresponding to 17% organic growth. Implementation of price increases throughout the year supported the strong net revenue growth.

.
Earnings before interest and tax (EBIT) for 2022 showed a DKK 55 million decline from DKK 183 million in 2021 to DKK 128 million in 2022, negatively impacted by input price inflation, including significant increases in transportation costs to overseas markets. Consequently, the EBIT margin declined by 8.1 percentage points from 18.8% in 2021 to 10.7% in 2022.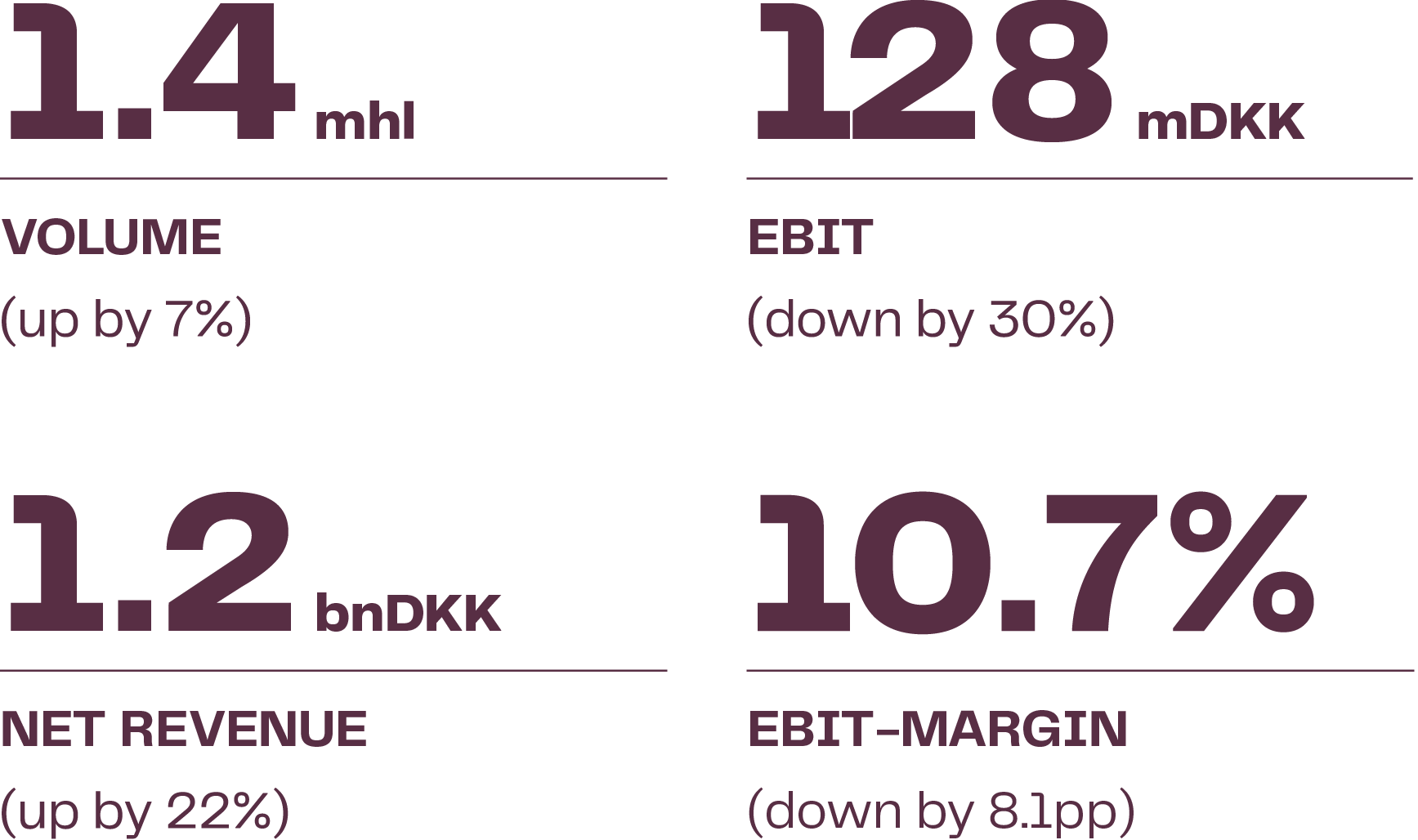 .
Development and initiatives in 2022
In 2022, we acquired Amsterdam Brewery Co. Ltd. in Canada. Amsterdam Brewery consists of a craft brewing unit and the most iconic brew restaurant at the harbor front in Toronto, Canada. The acquisition is an important supplement to our agency business, Bruce Ashley Group, in Canada and will solidify our position in Ontario as well as the rest of Canada. Amsterdam Brewery has performed very well in the period of our ownership in both brewing and the restaurant business.
Our malt business continues to perform well in the relevant markets. Our route to market has undergone changes in Trinidad as we are moving into a license model in the beginning of 2023. The malt expansion in the USA is going well, and we are building a stronger position in several states across the US. Malt in Africa continues to grow despite political disruptions in some countries. We are continuously improving our footprint for both malt and beer in the Americas and Africa as well as expanding our partnerships.
Our RTD/Cider business in Asia is healthy, but the business has experienced turbulence linked to the alternately opening and closing of the On-Trade channel in the country due to COVID-19 restrictions.
Our Crodo business is growing significantly outside of Italy, and we experience solid market share improvements across markets. It is our ambition to grow our Crodo business further; therefore, a market expansion has been initiated in selected countries in Southern Europe.
New partnerships have been initiated in key markets across the Mediterranean region. The beer category has been under pressure in Germany due to supply chain and cost challenges but a change in route to market shows signs of improvements. Finally, UK is performing very well in malt with a strong market share position.
Our international business is currently being redefined and future-proofed by revising our route to market, including our supply chain structure, with an ambition of localizing our production setup over time to become less dependent on transportation and freight as well as import restrictions and taxes. In addition, we will reduce our carbon footprint significantly with a local production setup compared to our current route to market, which includes long distance transportation and freight.