Operating model
Royal Unibrew is a multi-beverage business, and our operating model emphasizes the importance of a decentralized organizational structure securing agile decision making tailored to the needs of local consumers and customers. Our portfolio is based on beverages that can be kept at ambient temperatures securing a longer shelf life and maximum leverage throughout our value chain. The business is anchored in strong local brand portfolios reinforced by important international partnerships. This yields high-quality beverage propositions in relevant packaging formats for the benefit of our customers who are given the opportunity to serve the consumers for all occasions.

The business model is operated with a lean centralized setup, where only procurement and IT are run as global functions. This is to ensure that we reap the scale benefits from common procurement across the Group, and that we monitor and operate the business through our simple and proven performance management, ERP and supporting systems. Commercial organizations are locally anchored and have a high degree of decision power, which secures a clear mandate and local ownership of the business development.
Value chain
We use ingredients such as barley, water, sugar, juice, etc. for our beverages. It is important that we achieve a stable, high-quality and sustainable supply; therefore, we work in close collaboration with our suppliers to understand the environmental and social footprint of our total activities. Additionally, our suppliers must comply with our Code of Conduct and ethical guidelines.
We operate at nineteen production facilities in eight countries. In general, all our products are produced at the same facilities, meaning that all beverages are filled on cans, glass bottles or PET bottles at the same filling lines no matter product category. We also leverage our multi-beverage position with regard to common warehouses and logistic setups, as all our products can be stored at same temperatures and transported on the same trucks.
On the commercial side, the multi-beverage platform also yields a lot of synergies, as the same salesforce can sell all our products. Hence, our commercial organization is able to spend more time with our customers securing strong commercial relationships and top class in outlet execution.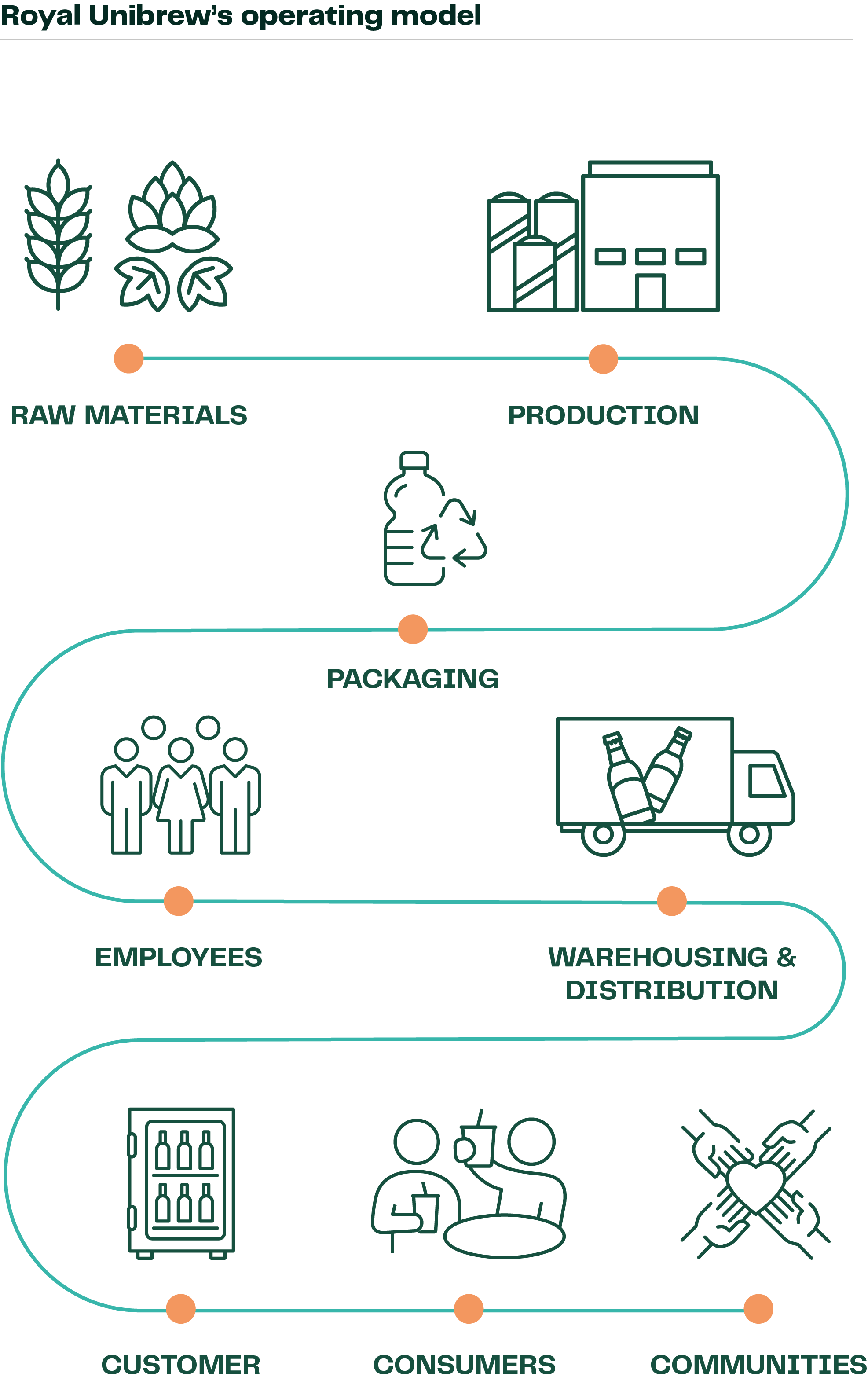 Products/brands
Our multi-beverage model stretches across all relevant categories where products can be kept at ambient temperatures, as it provides scale benefits throughout the value chain. We operate in both non-alcoholic and alcoholic categories, and we aim to have no/low sugar alternatives in the non–alcoholic segment and no/low alcohol alternatives in the alcoholic segment.
Our product portfolio is based on strong local brands – many with iconic status in their home market. We want to offer a portfolio of relevant brands and strive to execute brilliantly in all channels. By working with the brand identities through strong marketing efforts, we seek to continue the premiumization of our total portfolio.
Our own brands are supplemented by strong international brands either on license agreements or third-party distribution agreements.
We aim for a market leading position within the categories we operate in across the different markets where we are present.
Sales channels
In our Nordic multi-beverage markets, we have strong market positions with broad portfolios and extensive sales channel coverage. All customers across all sales channels are important for our business, as they are our main route to market and thereby a prerequisite for having offerings to all consumers on various occasions.
Supporting the commercial direction and investing behind the more profitable channels in a focused effort are also contributing to the premiumization of our total business.
In our multi-beverage markets, we strive to fully control the route to market, as it creates efficiency in our value chain, as well as enabling the best service to our customers.
Environment, sustainability and governance
We have an ambitious aspiration to become a global leader in sustainable beverages, which is manifested in our ambitious decarbonization targets. At the end of 2022, these emission reduction targets were submitted to the Science Based Target initiative (SBTi) for official validation. We also continue to support UN Global Compact.
We support and seek a circular economy for our packaging, and we want 100% of our packaging materials to be recycled, recyclable or reusable by 2025. In our main markets, the Deposit Return Systems secure a very high level of recycling, but we continue to make efforts to improve.
Our colleagues are the foundation of our business, and we want to have the most engaged, diverse and talented people with an entrepreneurial attitude, empowered and striving to do better every day. We employ around 3,600 people across the Group, and we aim to create a safe work environment, where our talented and loyal employees will feel engaged and included in a dynamic, team-oriented work culture that truly values each individual.
Royal Unibrew aims to be a responsible member of the community and make positive contributions to the sustainable development of society. We are deeply rooted in the communities where we work, and we want to give back to all our stakeholders, as it will strengthen our business over time. It is part of our culture to engage not only in the local societies surrounding our premises, sports clubs and our employees' families, but also in our brand communities in collaboration with our customers, business partners and NGOs.