Corporate social responsibility
Corporate social responsibility report under section 99A of the Danish Financial Statements Act
"The key to our good results over the past years has been a persistent focus on sustainable, long-term value creation and on achieving continuous improvements."
We take our social responsibility seriously
At Royal Unibrew, we are very aware of our role as a considerable beverage provider with breweries and operations in many countries – and of our responsibility to our surroundings. We want to contribute positively to the development in the areas in which we operate, to limit our environmental impact, to establish safe and good working conditions for our employees and to deliver products of a very high quality to consumers.
Therefore, our CSR work is an integrated part of our business and a natural part of our day-to-day operations.
Circular economy – a useful framework for environmental management efforts
Under the heading "Circular economy", a focus area in recent years has been how to keep products and materials circulating in order to leverage their value for as long as possible. In June 2017, the Danish Government's Advisory Board for Circular Economy published a vision for Denmark's transition to a circular economy and formulated specific objectives and recommendations for efforts to support the transition to a circular economy. Moreover, the UN has adopted 17 sustainable development goals for the world in relation to which circular economy is a crucial element in generating more sustainable economic growth.
We are continuously endeavouring to reduce our consumption and increase recycling across our entire value chain. It therefore comes very natural to us to act in accordance with the general mindset that is the mainstay of the circular economy vision – and we have been doing that for a number of years. It is very much about a sound economy and common sense, and we have achieved significant results in recent years.
As part of our continued endeavours to limit our environmental impact, we will continue our efforts to optimise the raw materials used, and we will reduce the weight of our containers and packaging and increase the use of recyclable and biodegradable materials. At the same time, we will reduce water and energy consumption, optimise the transportation of our products and increase the use of waste materials to generate energy.
Royal Unibrew's value chain/process flow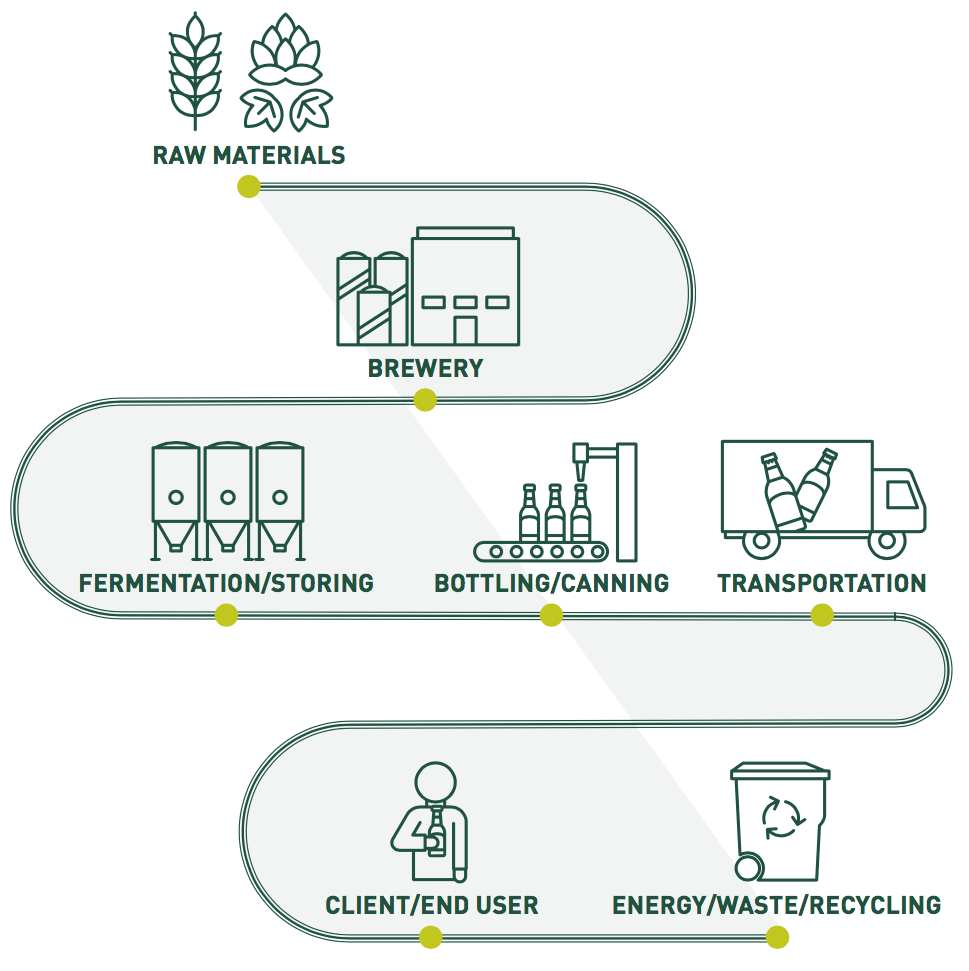 Corporate social responsibility
Royal Unibrew's corporate social responsibility (CSR) work is based on our shared values and Royal Unibrew's Code of Ethics. Moreover, a number of guidelines have been defined for Royal Unibrew's corporate social responsibility in our quality, food safety and environmental policies. Our CSR work includes most of the themes comprised in the four international CSR guideline sets: The OECD Guidelines for Multinational Enterprises, the ISO 26000 guidance on social responsibility, the UN Global Compact and the UN Guiding Principles on Business and Human Rights.
Royal Unibrew operates in compliance with European and international legislation and regulations as regards labour and human rights, and it is our aim that our suppliers and customers should do the same.
It is our objective that Royal Unibrew's production sites should be safe and healthy places to work for its employees. Royal Unibrew's health policy therefore focuses on preventive measures to avoid employees being worn out and incurring work-related injuries and on actively promoting safety, job satisfaction and efficiency. Our main focus is on reducing the number of occupational accidents and on improving our employees' job satisfaction.
We feel a special social responsibility in relation to the local areas in which we operate. It is therefore Royal Unibrew's aim to have a good dialogue with local/municipal authorities on the issues of current interest in the local areas; we make an active effort to assume responsibility for these, for example in relation to activating citizens balancing on the edge of the labour market and integrating refugees.
Royal Unibrew operates in highly competitive markets, which necessitates a strong focus on product costs and optimisation. This is supported by our policy of acting responsibly towards the climate and the environment through careful control and continuous optimisation of our resource consumption.
Royal Unibrew works against all forms of corruption, including extortion and bribery, and our activities must always be in full compliance with anti-corruption legislation irrespective of the place of operation being our European home markets or our export markets.
Royal Unibrew has through many years chosen to focus on continuous improvements, which is a very hands-on method for the individual employee in terms of achieving sustainable long-term results. It is the objective to be able at all times to deliver strong quality products with due consideration of our employees and Royal Unibrew's surroundings. This approach has resulted in satisfactory improvements in a number of areas for several years and will also form the basis of our future CSR work.
Our work to prepare and announce an overall strategy for our CSR work to create an even better framework for and insight into our targeted CSR efforts across our organisation continues in 2018.
Target areas of Royal Unibrew
Royal Unibrew has chosen to target its CSR efforts at the following areas:
Human rights (labour rights and competence
development)
Working conditions (safety at work)
Environmental and climate issues
Financial and business matters, including
– Anti-corruption
– Competition
– Tax policy and tax payment
Consumer affairs (responsible alcohol consumption)