Corporate social responsibility
Corporate social responsibility report under section 99A of the Danish Financial Statements Act
"Our continuous improvements agenda focusing on sustainable and long-term value creation has also in 2018 delivered good and improved results."
We take our social responsibility seriously
At Royal Unibrew, we are very aware of our role and of our responsibility to our surroundings as a considerable beverage provider with operations in many countries. We want to contribute positively to the development in the areas in which we operate to limit our environmental impact, to establish safe and good working conditions for our employees and to deliver high quality products to consumers.
Therefore, our CSR work is an integrated part of our business and a natural part of our day-to-day operations.
During 2019, we commit our selves to joining the UN Global Compact and the UN Guiding Principles on Business and Human Rights. Further, during 2019 we will establish a baseline for our total greenhouse gas emission in order to set targets for our journey towards a neutral carbon footprint.
In the second half 2018, we have gone through a materiality analysis covering more than 75% of our operational footprint to assess and identify further focus areas within the CSR framework. The process revealed many excellent examples of local  improvements within health and safety, environment, and reduction of material consumption, a few of them is shared in this document in order to show how many smaller initiatives all together make a difference in total.
Circular economy – a framework for our environmental management efforts
Under the heading "Circular Economy", a focus area in recent years has been how to reduce our material consumption and at the same time reuse/recycle material as much as possible to keep materials circulating in order to leverage their value for as long as possible. In June 2017, the Danish Government's Advisory Board for Circular Economy published a vision for Denmark's transition to a circular economy and formulated specific objectives and recommendations for efforts to support the transition to a circular economy. Moreover, the UN has adopted 17 sustainable development goals for the world in relation to which circular economy is a crucial element in generating more sustainable economic growth.
Royal Unibrew's value chain/process flow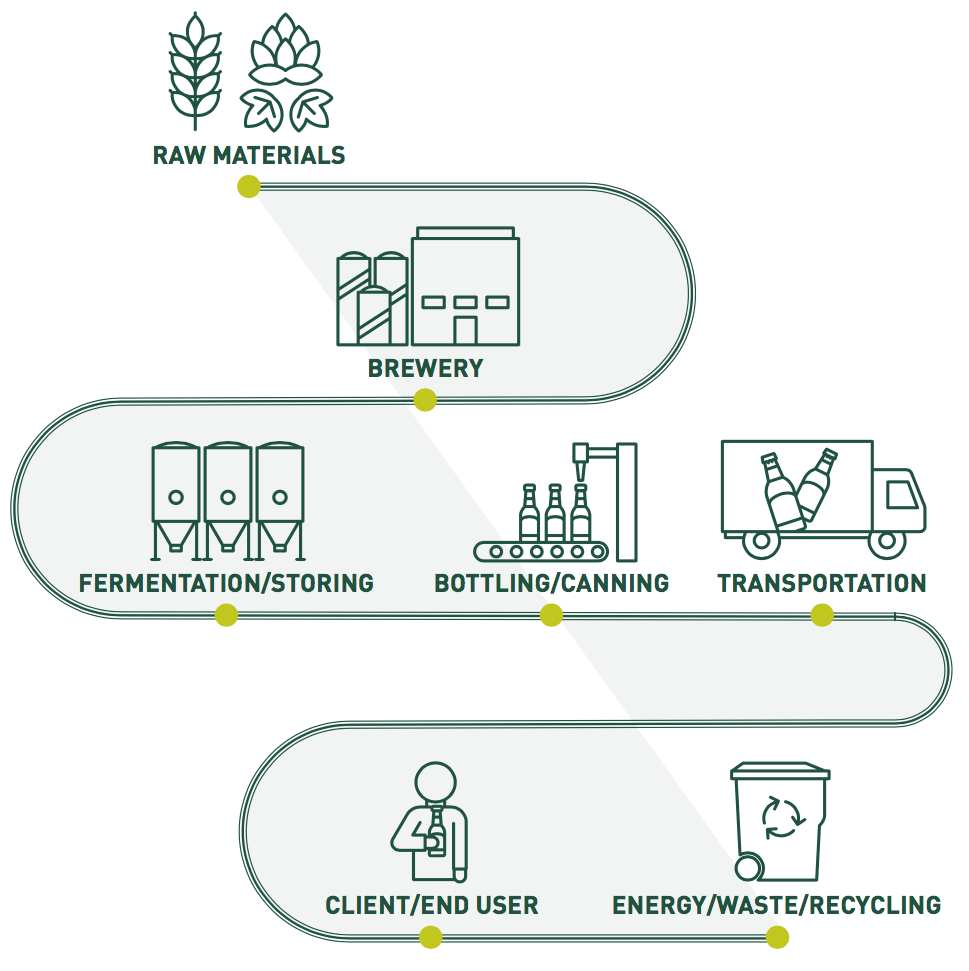 Corporate social responsibility
Royal Unibrew's corporate social responsibility (CSR) work is based on our shared values and Royal Unibrew's Code of Ethics. Moreover, a number of guidelines have been defined for Royal Unibrew's corporate social responsibility in our quality, food safety and environmental policies. Our CSR work includes most of the themes comprised in the four international CSR guideline sets: The OECD Guidelines for Multinational Enterprises, the ISO 26000 guidance on social responsibility, the UN Global Compact and the UN Guiding Principles on Business and Human Rights.
Royal Unibrew operates in compliance with European and international legislation and regulations as to labor and human rights, and it is our aim that our suppliers should do the same.
It is our objective that Royal Unibrew's production sites should be safe and healthy places to work for its employees. Royal Unibrew's health policy therefore focuses on preventive measures to avoid employees being worn out and incurring work-related injuries and on actively promoting safety, job satisfaction and efficiency. Our main focus is on reducing the number of occupational accidents and on improving our employees' job satisfaction.
We feel a special social responsibility in relation to the local areas in which we operate. It is therefore Royal Unibrew's aim to have a good dialogue with local/municipal authorities on the issues of current interest in the local areas; we make an active effort to assume responsibility for these, for example in relation to activating citizens balancing on the edge of the labor market and to integrating refugees.
Royal Unibrew operates in highly competitive markets, which necessitates a strong focus on product costs and optimization. This is supported by our policy of acting responsibly towards the climate and the environment through careful control and continuous ongoing optimization of our resource consumption.
Royal Unibrew works against all forms of corruption, including extortion and bribery, and our activities must always be in full compliance with anti-corruption legislation irrespective of the place of operation being our European home markets or our export markets.
Through many years Royal Unibrew has chosen to focus on continuous improvements, which is a very hands-on method for the individual employee in terms of achieving sustainable long-term results. It is the objective to be able to deliver at all times strong quality products with due consideration of our employees and Royal Unibrew's surroundings. This approach has resulted in satisfactory improvements in a number of areas for several years and will also form the basis of our future CSR work.
Our actual performance in 2018 includes the acquired businesses called a.a. in the tables, whereas b.a. is reported numbers excluding the acquisitions. Further, we have decided to include all sites (offices, terminals etc) in the 2018 reporting, which form the new benchmark.
Our overall strategy for our CSR priorities and future commit- ments are connected to the materiality assessment conducted in 2018. During the process we identified 10 key areas with the highest impact as illustrated in the table. On top of already prioritized areas we identified communication efforts as a new focus area and consumer health and well-being (consumer affairs) as topics to be enhanced. Communication efforts are centered around sharing what we do, how we do it and what we want to achieve on a corporate level, thus these areas will be included in the CSR reporting for 2019.