Strategy
Royal Unibrew's overall strategy is confirmed to be a strong regional beverage provider in selected core markets and outside the core regions to establish and cement strong niche positions. The implementation of the strategy has led to continuous improvement of our earnings capacity, margins and free cash flow.

Overall strategy 
Royal Unibrew strives to grow through two supplementary strategies:
1) Being a strong multi beverage provider in core markets offering a diverse portfolio, which is relevant for consumers and customers (e.g. beer, cider, long drinks (RTD), ready-made cocktails, soft drinks, waters and fruit juices).
2) Establishing leading and scalable niche positions through a combination of locally and anchored brands and unique export propositions (e.g. Ceres, Tempt, Faxe, Vitamalt and recently added Terme di Crodo, Lorina and Nohrlund products).
With as well own brands as strong international licence brands our objective is to achieve leading positions in the markets or the segments in which we operate.
In the coming years, we will scale up our sales and marketing efforts with a view to reinforcing our market positions in the individual markets and increasing the total business of the Group – thus ensuring the long-term value of our many brands.
Our strategy has been "designed" taking into account that Royal Unibrew operates in diverse markets that are characterised by different dynamics.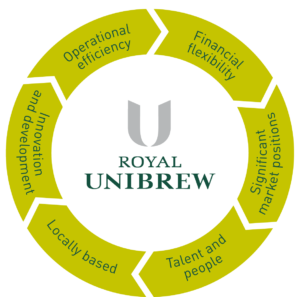 Main elements of the overall strategy 
Key market positions
Focus on markets and segments in which Royal Unibrew holds or may achieve a considerable position
Royal Unibrew focuses on further developing established market and segment positions where we hold either a leading position, such as in Denmark, Finland and the Baltic countries, or considerable and scalable niche positions, such as in Italy or France and in selected international markets. For mainstream market positions in consolidated markets, it should be possible to achieve a role as a leading player to create attractive profitability.
Royal Unibrew's core market area is characterised by considerable industry concentration.
To the extent that structural growth opportunities arise for example through acquisitions or by entering into partnerships, which might reinforce existing market positions or create new market positions, these will be assessed, whether there is a strategic match and long-term shareholder value can be created.
We will reinforce our market positions through focus on a broader beverage portfolio in order for Royal Unibrew's customers to benefit further from the partnerships.
Talent and people
Developing alert and diverse talent
Insight and strong competences are required to reach our ambitious strategic targets and to navigate in markets characterised by rapid change. We therefore give high priority to retaining experienced employees and recruiting new employees who bring new momentum and knowledge, and to strengthening core competences through development and training.
Innovation, development and local roots
Focus on innovation and development of Royal Unibrew's products and local brand positions
Royal Unibrew's strong position as a regional beverage provider builds on strong local market positions established on the basis of well-known local brand portfolios is subject to continuous further development. The product portfolio development includes our own development of new line extensions, products and brands within existing and new beverage categories as well as the conclusion of licence agreements both as a licensee and a licensor. A Growth Leadership Team facilitates the development and implementation of the Royal Unibrew Best Practice and knowledge sharing across the entire Group.
Operational efficiency
Focus on operational efficiency
Royal Unibrew will continue focusing on pursuing opportunities to continuously enhancing the efficiency of all links in our value chain – at the same time considering how to reduce our environmental impact and ensure sufficient production capacity.
Financial flexibility
Maintaining Royal Unibrew's financial flexibility, competitive power and scope for strategic manoeuvrability through an appropriate capital structure
Royal Unibrew is continuously considering its capital structure with a view to adjust it as to support the realization of the strategic and financial targets in the best possible way.
Market outlook
Despite the fact that Royal Unibrew is primarily operating in Europe, our individual markets are characterised by many different development trends and market dynamics. Our strategy has been determined based on market-by-market considerations. Royal Unibrew's outlook for the individual markets is as follows:
Western Europe 
2018:
Revenue
 EBIT margin
3,378 mDKK
 19,1 %
In Denmark – apart from a relatively tough 2018 weather driven comparison – we foresee the beverage market to be relatively stable, as beer and soft drinks will continue their shift into 'better for you" territory. Low and non-alcohol beers will gain ground as a new generation of full tasting variants takes stage, well demonstrated by the recent succesful launches of products such as Royal Organic 2,3 % Let Pilsner and Heineken 0.0%.
The relatively recent boom in speciality and craft beer consumption will continue, albeit at a pace that illustrates the trade reality that has set in. The abundance of choice that confronts consumers leads to signals of confusion and may well drive the value chain to some in- outlet rationalization.
In CSD's the low-sugar and non-sugar segments will continue to grow, as will the indulgence and organic sectors: We are confident our Royal Unibrew portfolio that includes numerous great tasting variants from Novelle to Pepsi Max offers attractive propositions to both consumers and our business partners.
With the lowest beer per capita in Europe and an average soft drink consumption the Italian market has a record mineral water consumption, albeit at moderate consumer pricing.
With an outspoken 'Restaurant and Bar ' culture we expect some moderation and shifts towards 'in home' consumption, yet we are confident that our innovation minded and -insight based Terme di Crodo portfolio adjustments will connect positively with consumers and customer across the entire peninsula. Focus on top quality and locally anchored propositions, satisfying prevailing needs for local pride and a strong match of the famed local culinary traditions seem to compliment our strong beer foundation well.
In France we note a clear shift away from mainstream softdrinks and beers towards more artisanal, local brands and more special products that also concur a more premium place in the heart of the consumer and customer. On top, we note a clear drive towards more "better for you" concepts driving a rapid growth of organic and functional segments. All this in combination with a life-long tradition of culinary and gastronomic indulgence makes us see a shift out of mainstream towards a bit "less is more", premium consumption.
Baltic sea
2018:
Revenue
 EBIT margin
3,338 mDKK
18.0 %
Finland, the beverage market forms a patchwork of influences from macro-economic improvement, legal liberation, fiscal tightening and health concern, all of these built on a culture where intimate moments are often celebrated with some form of alcohol consumption.
The moderate employment rate improvements seen over the past period have an impact on the the relative consumption of discounted alcohol vs premium alcohol, with beer being the most significant category.
The more global trend of mainstream-beer volumes gradually loosing territory to craft and specialty beers persists also in Finland, just as the growth of low- and non-alcoholic beer.
In CSD's, we expect the current migration towards no- and low sugar products to continue.
In the Baltic countries the demographic pull of the workforce towards Europe and the UK in particular is expected to moderate, and the first returners are noted. The challenges of increasing energy prices and pressure from salary increases put demands on businesses and, combined with ever increasing excise taxes and sales restrictions. Consumer pricing for beer and ciders is at relatively high levels already and further tax hikes may drive consumption towards 'tax-free' and grey imports.
The non-alcoholic beverage segment is expected to have further growth potential.
International
2018:
Revenue
 EBIT margin
582 mio. DK
21.9 %
The market for dark malt beverages is geographically fragmented, and consumer preference for these is rooted in tradition. The markets for dark malt beverages in established economies such as Europe, the U.S. and the Caribbean are expected to be structurally stable in the coming years. Demand for beer and dark malt beverages is expected to show a slight structural increase in a number of devel- oping countries. The slight growth should be viewed in light of the macroeconomic challenges facing many countries in Africa and the Americas, whose development is affected to a large extent by the development in raw materials prices (oil, gas, metals), the level of foreign investments and thus the availability of "hard" currencies. The market for soft drinks with artisanal, authentic, high quality ingredients and strong local heritage is expected to grow in West-/ Central Europe, North America and selective Asian markets.