Operating model
We have a strong performance culture with a very solid operating model that fits well with our portfolio of strong local brands.
Royal Unibrew has built its business on the core belief that beverages and the nature of the business make it important to be close to customers and act locally. This is reflected in the composition of our business and brands.
Our business is built on one common group IT platform, performance management system and procurement setup. This gives us the ability to obtain transparency and to optimize our business processes across the group.
All other functions are managed locally under the supervision of the country manager. We operate with marketing departments and sales organizations having competences to make commercial decisions in each individual country/market. This ensures proximity to our consumers and customers in the different markets and product portfolios which are managed locally. Profitability and competition by category differ from country to country and consequently our model enables our local organization to prioritize where to invest and focus.
Royal Unibrew operates with a flat organizational structure with few management layers. E.g., all country managers report directly to the Senior Leadership Team. The corporate functions are designed according to the business model and consequently group functions are kept at a minimum level. This ensures that activities in the single countries are not duplicated centrally.
Digital approach
Our digital journey is a key enabler of our future success. For the main processes we strive to work on common systems once the processes have reached a certain maturity level. E.g., we operate with one groupwide ERP system based on SAP and several related tools that are common across the group. In areas where development varies across countries, we allow local solutions to be developed; particularly in the commercial area. However, as the processes mature we strive to roll out common solutions across the group.
Our growth formula
We continue to pursue and remains committed to deliver profitable growth and thereby a strong cash-flow generation. To maintain momentum in our business we work within a number of areas:
We aspire to be consumers' and customers' preferred beverage provider through investments in our existing portfolio, but also from developing new products and thereby over time providing a more sustainable beverage offering.
We strive to create a culture that attracts and maintains talents, develops skills and competences, as well as offers personal development opportunities for our employees.
We aim to create a positive total shareholders return, through a combination of growing distribution (dividends and share buy-backs) over time as well as an increasing share price.
Our target is to grow faster than the market in which we compete and consequently increase our value market share.
The ambition is to reduce the ratio of fixed costs per net revenue every year.
We also strive to create value by acquiring companies. The foundation for acquisitions is always that it can be incorporated in our operating model and our business model enables us to extract synergies.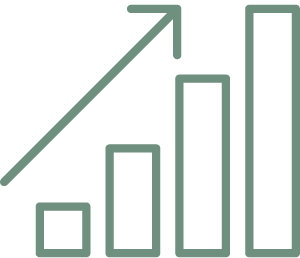 Volume growth
We want to be the preferred partner to our customers. This is achieved by strong focus on in-store execution and ensuring that our products are displayed well in customers' premises to ensure that customers perform well in the individual beverage categories.

We want to grow distribution by focusing on channels where our products are underrepresented.

We want to prioritize commercial spending to support growing categories and channels.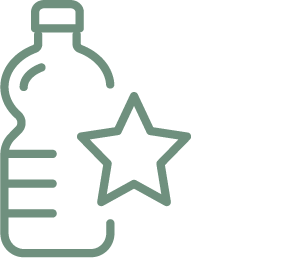 Premiumization
We want to continuously develop new products at a more premium level than the average portfolio we currently offer. This enables Royal Unibrew to obtain a higher price and to deliver better value to consumers and customers.

We want to grow the more profitable channels faster and thereby offer a product portfolio with better value.

We want to direct our commercial spending to the more premium part of our portfolio.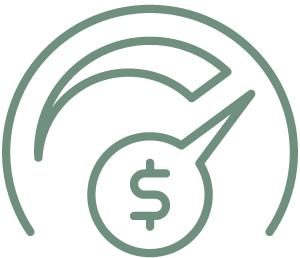 Efficiency improvements
Efficiency remains a key pillar in our value creation journey. The key driver of efficiency is operating leverage. We achieve operating leverage by growing the topline faster than our fixed cost. Our multi beverage operating model enables us to achieve higher utilization of fixed assets, sell more per salesperson, have higher average drop size to customers and in general have higher productivity per employee.

The foundation for continued improvement of our productivity is that we are able to digitalize and standardize as many processes as possible. In terms of servicing our customers there is a constant battle between offering a good and personalized service level and at the same time manage costs. Our guiding principle is to spend as little time as possible on repetitive tasks in order to direct time towards value creating tasks.
To fuel growth in medium to long-term, we strive to increase commercial spending directed towards growth initiatives every year. The increase will depend on the opportunities identified in the marketplace.
Multi beverage and niche
Royal Unibrew has two fundamental strategic routes which is multi beverage and niche position. The multi-beverage strategy is relevant in markets with a wide coverage of beverage categories and full channel coverage. The portfolio would aim to cover mainstream and above mainstream.
The multi-beverage strategy is currently being pursued in Denmark, Finland, Lithuania, Latvia and Estonia.
From a value perspective the largest beverage categories in the markets are often beer, carbonated soft drink, energy drinks and RTD. Our brand portfolios in the multi beverage markets are combinations of own locally anchored brands and partner brands from e.g. PepsiCo, Heineken and Diageo. In the multi beverage market the combined value of the full portfolio is very important as it delivers leverage for our customers and for Royal Unibrew. Economies of scale on all dimensions is a winning formula.
The niche strategy is more targeted to either single brands or a few brands in the specific market. This strategy is currently being pursued in markets like e.g. Italy, France, Germany, Austria, Switzerland, US and Canada. Currently, most markets outside of the multi beverage territory would be either single brand or two brands markets, while markets like Italy, US, UK, Germany, Canada and France are multi-niche markets. In most cases we would leverage an individual sales organization covering several channels in multi-niche markets, while niche markets would be serviced by local partners through our international key account organization.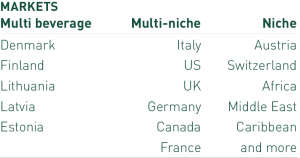 Non-alcoholic categories
Our non-alcoholic beverage portfolio is outgrowing our alcoholic beverage portfolio, and we are represented in some very interesting growth categories.
Carbonated Soft Drinks (CSD) constitutes 67% of our non-alcoholic revenue. We have very strong positions in Denmark and Finland where Faxe Kondi and Jaffa have market leading positions, respectively. In Italy, Lemon Soda is #1 in the lemon category in the Off-Trade. On top of these local super brands, we have an International partnership with PepsiCo covering Denmark, Finland and the Baltic countries.
Around 12% of our non-alcoholic revenue stems from water. In Finland, Novelle is the market leader and operates within still, sparkling, and enhanced water. Our CO₂ neutral brand Egekilde, which is sold in PET bottles made of 100% recycled plastic holds a market leading position in Denmark. 2020 was negatively impacted by Convenience and On-Trade sales.
Energy has grown to become a relatively large part of our non-alcoholic portfolio with 8% of revenue in 2020. Energy is growing faster than the average beverage market in all our markets, and our brands Cult, Faxe Kondi Booster and ED is very well received by consumers and customers.
Our Malt Beverage business is 7% of our non-alcoholic revenue. Our brands, Vitamalt, Supermalt and Power Malt are primarily sold in the Americas and Africa as well as among ethnic groups from these areas living in and around major cities in Europe and the US.
The share of non-alcoholic beers has increased to more than 2% of our non-alcoholic beverage revenue, as it grew almost 19% from 2019 to 2020. We have a strong portfolio of alcohol-free beers based on our local strong brand portfolio, as well as Heineken 0.0 through our international partnership covering Denmark and Finland.
Other non-alcoholic beverages constitute 4% of our non-alcoholic revenue of which the majority is juice where our Cido brand has a very strong market position in the Baltic countries.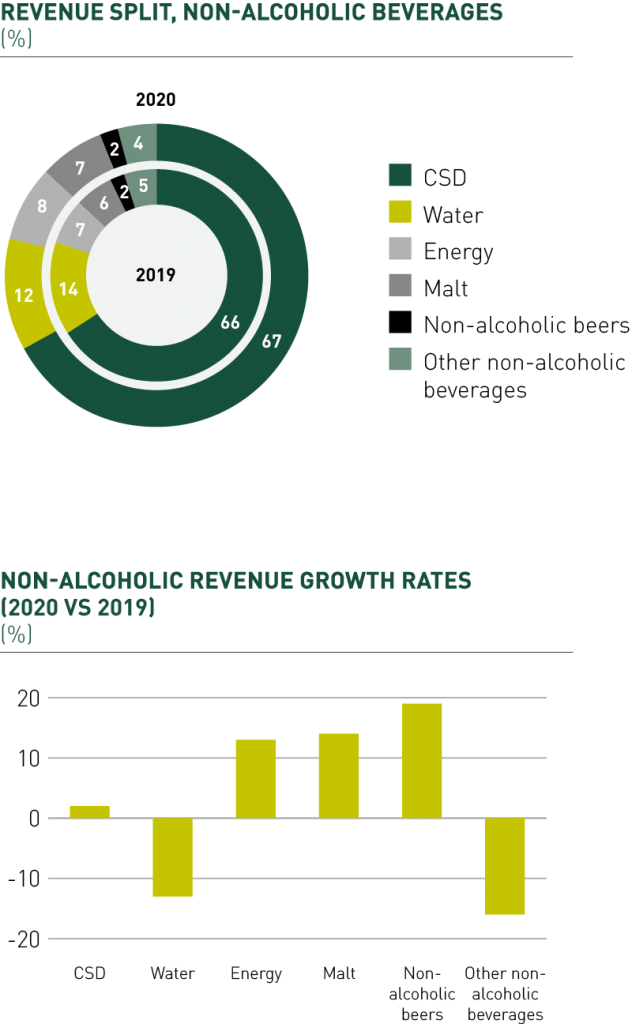 Alcoholic categories
In 2020, the alcoholic beverage segment was severely impacted by COVID-19 in all our markets, especially in the On-Trade segment.
Beer is by far the largest revenue contributor to our alcoholic beverage segment, as it contributes around 71% of revenue. We have strong market positions in Denmark, Finland and the Baltic Countries and is the market leader in the super premium segment in Italy. We also produce, sell and distribute Heineken in Denmark and Finland. Our export brand Faxe is growing significantly in the international segment and is heading toward 1 mhl in 2021.
Around 21% of our alcoholic beverage revenue stems from Cider and RTD where we have strong positions in Denmark and Finland. In Denmark, Shaker has a strong position, whereas Original Long Drink in Finland is the market leader in the segment.
In Finland, we offer a range of international spirits and wine brands, including Johnny Walker, Captain Morgan, Lanson, JP Chenet and Baileys on an agency basis, and constitutes around 8% of revenue in the alcoholic beverages segment.